Welcome to
Vaslui County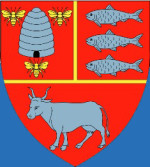 Location:
Vaslui County is situated in Moldova region from Romania, in the east part of the country and its neighbors are the following counties: Iasi in north, Neamt in north-west, Bacau and Vrancea in west, Galati in south and Moldova Republic is in east.
Area/Surface:
5.318 km²
Population:
373.000 people
Capital (Residence):
Vaslui City 48.000 people
Religion:
Orthodox
Cars:
VS
Calling code:
+4 0235 or 0335
Municipalities:
Vaslui, Bârlad, Huşi
Cities:
Negreşti, Murgeni
Main roads:
E581 (DN24) Tişiţa-Bârlad-Huşi-Moldova Republic
DN24 Bârlad-Vaslui-Iaşi
DN2f Bacău-Vaslui
DN15d Roman-Negreşti-Vaslui
DN24a Huşi-Murgeni-Bârlad
DN11a Bârlad-Adjud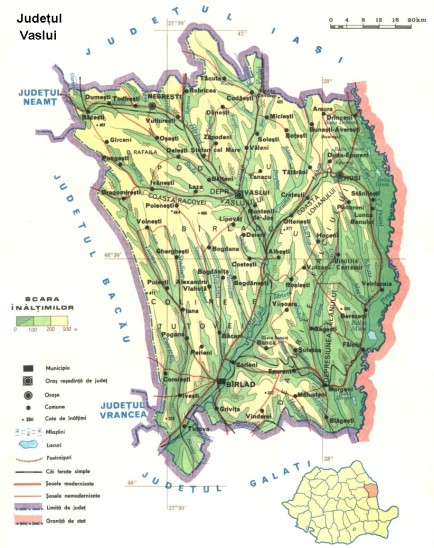 ---
Vaslui County
Relief, climate, rivers and lakes from Vaslui County:
Vaslui County has a relief of hills and plateaus with relative low altitudes which don't exceed 400-500 m height. The largest  part of the territory is covered by Moldova's Plateau with its subdivisions: Tutovei Hills and Bârlad's Plateau. Vaslui's climate is temperate-continental, with warm summers and cold winters when predominate the cold winds from Siberia. When the temperatures frequently exceed 30º C, drought often appears, due also to the low rainfall which is a problem in here and is resolved through irrigation. The main rivers with their tributaries are Barlad and Prut Rivers and the most important lakes are Tacuta, Solesti, Urdesti, Manjesti or Puscasi Lakes.
Flora and fauna, agriculture and tourist objectives and attractions from Vaslui County:
As about the low elevation, predominant are the deciduous forests composed by oak, holm, beech, maple, elm, ash or the water loving forests like willow or poplar. (Find more journeys on blog.worldlifetimejourneys.com) The fish fauna is the richest and frequently are organized sport fishing competitions in the county. On Vaslui territory people work in agriculture and cultivate vines and fruit trees (orchards) intensively. The most important tourist objectives and attractions from Vaslui County are: Vaslui City, the county's museums (Village Museum, County Museum, Vineyard Museum and many others), the lakes for fishing, the Forest Reservations, the Zoological Garden from Barlad, the memorial houses of important Romanian writers and poets and many others. Visit Vaslui County!
---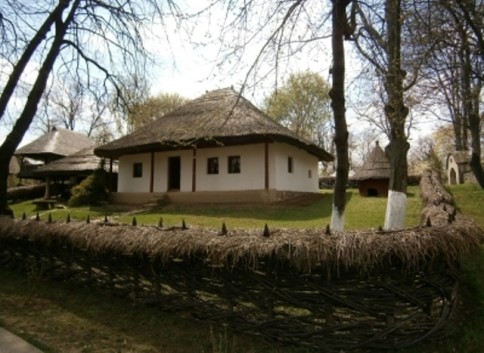 Traditional House from Vaslui County
---

 Vaslui City
Live weather in

 Bucharest

 Caras Severin County


 Timis County

 Suceava County

 Arad County


 Bihor County


 Salaj County

 Constanta County


 Tulcea County

 Maramures County


 Satu Mare County

 Bacau County


 Botosani County


 Galati County


 Iasi County


 Neamt County


 Vaslui County


 Vrancea County

 Arges County


 Braila County


 Buzau County


 Calarasi County


 Dambovita County


 Giurgiu County


 Ialomita County


 Ilfov County


 Prahova County


 Teleorman County

 Dolj County


 Gorj County


 Mehedinti County


 Olt County


 Valcea County

 Alba County


 Bistrita Nasaud County


 Brasov County


 Cluj County


 Covasna County


 Harghita County


 Hunedoara County


 Mures County


 Sibiu County

Summary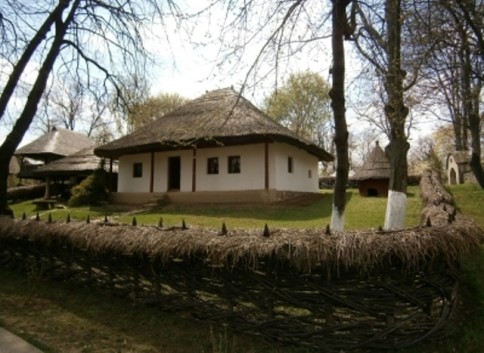 Article Name
Vaslui County is known for its grape vines and orchards
Description
Vaslui County situated in east Romania is famous for its wines and fruits. Tourists can visit Vaslui City with its museums or they can go fishing or hunting
Author
Publisher Name
Publisher Logo