Welcome to Torres del Paine National Park
---
Location:
In the south part of Chilean Patagonia.
Address:
Av. Bulnes 0309, 4° piso, Punta Arenas
Area/Surface:
2422.42 km²
Cities:
The closest city to Torres del Paine National Park is Cerro Castillo only 84 km away. But the bigger cities that are within driving distance are Puerto Natales (147 km) and Punta Arenas (393 km). All these cities have a tourism or visitor center where you can get maps and information about the park.
Foundation year:
1959
Telephone:
+(56-61) 2238581
Website:
E-mail:
Park Fees:
High season between 1st October and 30th April:
International Tourist: 21.000 CLP (Chilean Peso) which is around $31-32
National Tourist: 6.000 CLP (Chilean Peso) which is around $9
Children between 6 and 17: 6.000 CLP (Chilean Peso) which again is around $9
Low season between 1st May and 30th September:
International Tourist: 11.000 CLP (Chilean Peso) which is around $16-17
National Tourist: 4.000 CLP (Chilean Peso) which is around $6
Children between 6 and 17: 1.000 CLP (Chilean Peso) which again is around $1-2
When to go:
The high season when most of the visitors are coming to the park is between October and April covering most from the spring and fall and the whole summer season. However, the best months to go are between December and March when the daily temperatures can reach 12-14° C. On the other hand, the low winter season between April and October is recommended only to experienced hikers and temperatures can be very low.
How to get here:
By car:
There are only few routes which you can choose to get here only from south. The road number 9 coming from south passing through Cerro Castillo little town is getting you towards the Sarmiento and Laguna Amarga entry gates. They are open all year between 8.30 am and 8.30 pm. From the road 9 turn left later, on one of the following roads that leads you into the park: Y-180, Y-156 and Y-150. The last one connects with the road Y-290 coming from south that gets you to the Serrano Entrance where close by is the Administration of the park as well.
By means of transport:
For buses and other forms of transport please check www.torresdelpaine.com.
By plane:
The largest international airport is in Santiago. Then, there are daily flights from Santiago (Chile's capital) to Punta Arenas with the LAN company.
---
---
Torres del Paine National Park
Location, visitors and climate of Torres del Paine National Park:
Torres del Paine National Park is one of the most spectacular, interesting and famous national park from South America and not only from Chile. It is situated in the far south part of Chile in an almost totally remote area of a unique beauty. The region where Torres del Paine National Park is situated is the southernmost from Chile and is called Magellanes and Chilean Antarctica. It is visited annually by more than 150.000 tourists who come here not only from the country, but from all over the world. All visiting the park are stunned by what they can see. In a few words, it is a paradise for all kind of hikers. The climate here is always changing and you can encounter the all four seasons within a day. So even if the best season is from October to April, please do not rely all the time on weather predictions, but bring with you all types of equipment. Be prepared as the temperatures can drop from 14° C to 0° C in a short time. Also, periods of sudden rain can occur even if the weather seems to be sunny.
Fauna and flora from Torres del Paine National Park:
Before its foundation year in 1959, the region of the park was highly exploited. Its fauna and flora like forests and pastures were in danger. Today Torres del Paine National Park is still recovering after a 2011 fire accidentally started by a visitor and destroyed over 176 km². Tourists can see a large variety of fauna and flora. Among the most popular and important species are guanaco (a species of camelid/lama), foxes and pumas which are growing in number every year and if you are lucky enough you can spot a very rare Chilean deer called huemul. (Find more journeys on blog.worldlifetimejourneys.com) As about birds you can see the Lesser Rhea a bird similar with the Ostrich called Nandu, you can spot Andean Condors, the Black-Chested Buzzard Eagle, flamingos, swans, ducks, woodpeckers, kingfishers, finches and sparrows.
The flora of Torres del Paine National Park is rich in species and you can see Andean scrub-lands, tundra and deciduous forests all over the place except at higher altitudes. You can also see 7 species of Orchidaceae and other species of plants typical to Patagonian steppe.
---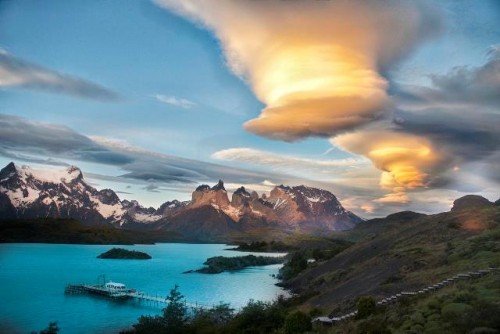 You can see splendid sunsets in Torres del Paine National Park
---
Cultural heritage and tourism in Torres del Paine National Park:
One of the best and most beautiful national parks and nature parks in whole South America, the Chilean Torres del Paine National Park is also included in the UNESCO World Biosphere Reserve since 1978. This park is an ideal place for those who love hiking, watching the fauna and flora which is very rich here and is renowned for the peaceful, quiet and spectacular landscape. You can find here a high level tourism because regardless the time of the year, you will always find lots of tourists in the park. The high tourist season runs between October and April while the low season is between May and September. Unfortunately during time, Torres del Paine National Park was hit by different dangers either natural or accidental ones because of humans. The worst situations were in 1985, 2055 and 2011 when an accidental fire created by tourists burned more than 30.000 acre of forest (each time) and almost completely changed the look on that part of the park which was affected.
---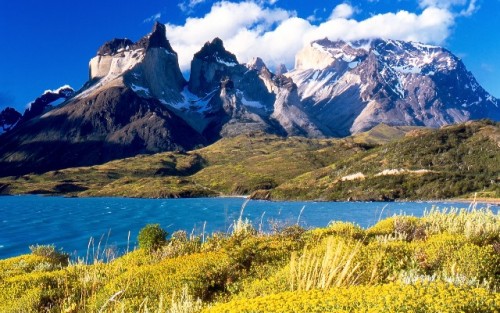 Crystal Lake Pehoé in the peaceful scenery of Torres del Paine National Park
---
What to see in Torres del Paine National Park:
If you come here, for sure you will be fascinated by the charming beauty of the nature. Here there is plenty to see for everyone. Because the park is full of hiking trails, the most important thing is to think about your physical condition. It doesn't matter what you choose to do or what you want to see. For sure you will need to hike a little bit even if that would be only for the day. Starting from a rich fauna and flora which you will see almost everywhere, this place is a heaven for bird watching. You can see crystal lakes like Grey Lake and the nearby Grey Glacier or Pehoé Lake. You can also see fast mountain rivers like Serrano River, endless old forests . Or you can see beautiful snow capped mountains including the Three Towers (Torres) that name this park. For those who love caves, you can visit Cueva del Milodon Natural Monument which is among the best to see in the park.
What to do in Torres del Paine National Park:
If you finally decided to come here, you can choose between hiking or trekking, fishing or going on horseback riding. There are other activities like kayaking, going for a picnic, climbing, going in expeditions, filming and most important taking photos so don't forget your camera. Not to forget about wildlife observation, mountaineering, rafting, bird watching and more. (Find more journeys on blog.worldlifetimejourneys.com) But again, most of tourists come here to hike in Torres del Paine National Park. The most important hiking trails are:
The Big Circuit or the O Trail which takes in total 7 to 10 days covering in total more than 93 km. This is the most complete one where for sure you will feel at maximum everything that this park has to offer. Then you can hike the most popular W Trail which takes around 4 to 7 days covering more than 50 km. Along this route you will pass through all three most important areas of the park. Going through three valleys called Ascencio, Frances and Grey Glacier, you will cover the most important parts.
Other shorter trails made if you want to hike for the day range between 2.5 and 20 km. All are of different degrees of difficulty and take you between 40 minutes to a full day of hike. If you love nature, wildlife and walking through spectacular landscapes this is the place for you. Visit Torres del Paine National Park for a world lifetime journey!
---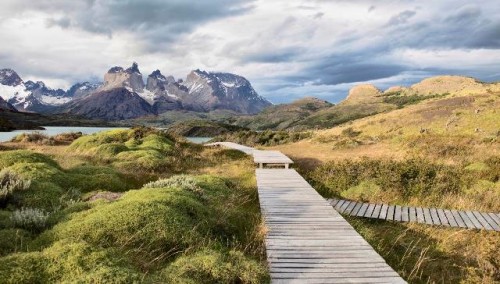 Hike the W Trail for unforgettable  views in Torres del Paine National Park
---
Summary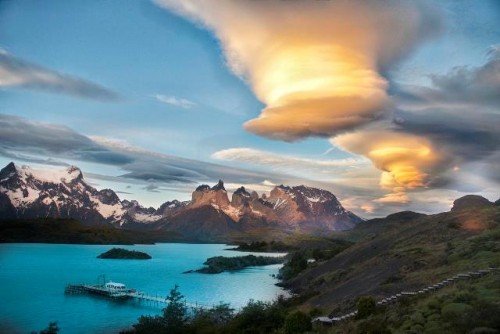 Article Name
Torres del Paine National Park is the gem hidden in Chilean Patagonia
Description
Torres del Paine National Park is a must do lifetime journey. Here, mother nature formed spectacular landscapes of an unforgettable beauty.
Author
Publisher Name
Publisher Logo