Welcome to read about Romanian traditional food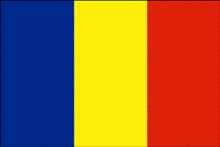 Location:
Romania is a country situated in Eastern Europe and has a coastline to the Black Sea in south-east and borders with the following neighbors: Moldova in east, Bulgaria in south, Serbia in south-west, Hungary in north-west and Ukraine in north.
Population and capital:
20.255.000 people / Bucharest 2.200.000 people
Calling code:
+40
When to go:
To taste the Romanian traditional food you can go any time of the year. It all depends what other activities are you planning to do. But we recommend to go in the holiday season either during Christmas and New Year times or during Easter Holidays just because in this periods it's a tradition everywhere in Romania to cook original dishes.
---
---
Romanian traditional food and cuisine
Introduction in the Romanian traditional food:
Romanians are peaceful people but also hard workers. Since long ago they had different activities developed in the rural side, activities like agriculture, fishing, hunting or growing domestic animals. Because of their activities, Romanians developed in time a diverse food being inspired from different international cuisines like the ones from Germany, Serbia, Balkans, Hungary, Italy or Turkey. They got a bit from everywhere and put their talent in to compose delicious and tasty dishes. Today there are more than 80 traditional food dishes from Romania. Here we included all types of food from starters, different types of bread, vegetarian food, main dishes, different types of salads and condiments, different types of cheese, deserts and also we included traditional drinks. But now we invite you to read about some of the Romanian traditional food.
Sarmale (Meat rolls in cabbage leaves) – Romanian traditional food:
Sarmalele (plural) or Sarma (singular) are for sure one of the most consumed Romanian traditional dish. It is composed by minced meat, rice, sour or fresh cabbage leaves or vine leaf plus other ingredients. The minced meat is generally from pork, but it can be also made from beef, chicken, lamb or rarely from fish. (Find more journeys on blog.worldlifetimejourneys.com). The word "Sarma" is coming from Turkish "Sarmak" and means "to wrap". In fact Sarmalele are made the filling composed by minced meat, rice and other ingredients is wrapped usually in cabbage leaves. Some people wrap it in spinach, vine or other kinds of leaves. Also, if you are a vegetarian you can change the minced meat with vegetables, mushrooms or corn.
To be more tasty, Sarmalele are cooked at a lower fire in a cast iron or ceramic pot either on stove or in the oven. Romanians serve this dish all year round but are more present during the Holidays. They usually add smoked bacon, thyme leaves, pepper, dill and mamaliga which is another Romanian traditional food. In the end sour cream is added on top.
---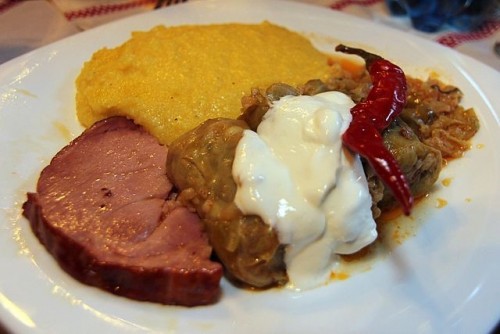 You can taste and eat Sarmale, a Romanian traditional food
---
Mamaliga (Maize or corn mush) – Romanian traditional food:
Mamaliga is a Romanian dish usually consumed in the rural areas of the country. It is made from corn flour. Generally speaking when you eat mamaliga, you don't need to eat any bread during your meal. Even if this is a national food in Romania, it is known to other countries around the world. People in whole Eastern Europe, in Switzerland, Mexico or even in South America in Argentina, Brazil, Venezuela or Uruguay are eating it. Quite often mamaliga is coming as a side for sarmale (see above). It is cooked from corn flour added in a cast iron pot full with boiling water and salt is also added. It can be served together with many other types of food, most of the time as we said above, it is replacing the bread.
---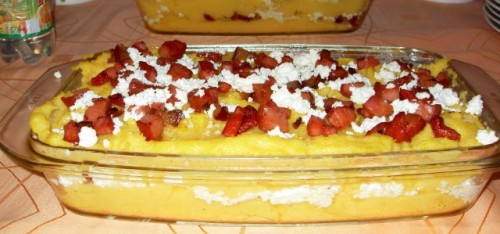 You can taste and eat Mamaliga, a Romanian traditional food
---
Chiftelele (meat balls) – Romanian traditional food:
Chiftelele (plural) or chifteaua (singular) are another common dish served all year and known in all the regions from Romania. They are composed from minced meat (usually pork or beef), eggs, dill, parsley, condiments, bread, garlic and onion. It is mainly made from meat which is cooked in fat and served normally with mashed potatoes, mustard or salad. Many people make them in tomato sauce or they add carrots, scrape potatoes and other veggies. In some ways Romanian traditional dish of chiftele is found in other countries around the world. Worldwide burgers meat are made very similar with Romanian chiftele. In Italy they are served with pasta, in Mexico with albondigas or in Greece they are called Keftedes. They are also found in Germany as Königsberger Klopse or in the Middle East are served with falafel.
---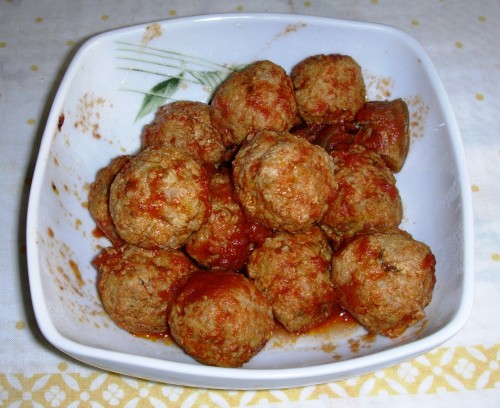 You can try the meat balls or chiftele if you come in Romania
---
Boeuf Salad – Romanian traditional food:
The ancestor of the Romanian boeuf salad is the Russian salad known also as Olivier. This name is coming from the chef Olivier who cooked it for the first time in 1860 in Moscow. After the original and expensive Russian recipe was lost, this salad was widely adopted in many countries from Europe. In Romania it is made from authentic ingredients. Boeuf salad is composed from beef meat, eggs, potatoes, carrots, parsley, parsnip and celery which are boiled. After cooking them, they are cut in small cubes while peas, peppers, small cut pieces of pickles and olives are added. In the end the natural made mayonnaise is added all over the salad which is decorated with veggies at your preference.
---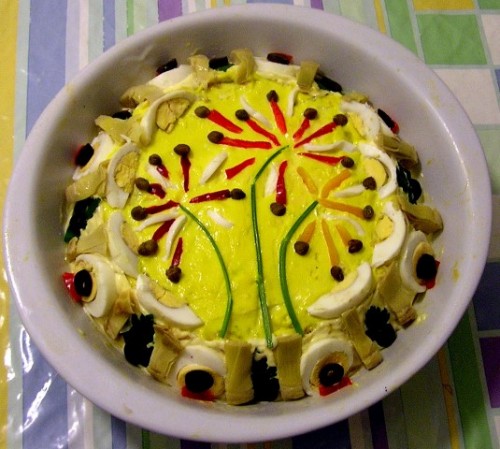 Why not trying the traditional Boeuf salad in Romania?
---
Romanian sausage (cârnat) and caltabos – Romanian traditional food:
Romanian sausage is a widely spread dish which is again composed from minced meat (generally pork), salt, condiments and bacon. Romanians as well as most of Europeans put these ingredients together composing a pasta which is wrapped in a cylindrical shell. On the other hand similar with the sausage is the Romanian traditional dish of caltabos. (Find more journeys on blog.worldlifetimejourneys.com) This is known in different ways around Romania. In fact they are made from the pig's innards, bacon in some regions of Romania and sometimes rice which are boiled, small cut and wrapped. They can be consumed fresh or smoked.
---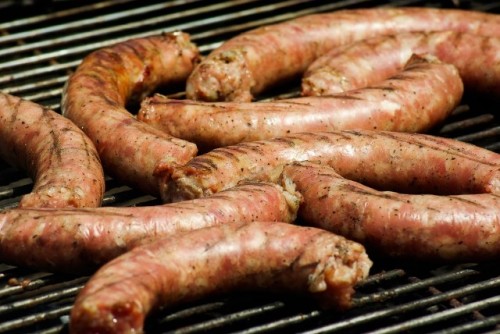 Sausages are spread in the world but for you here is Romanian traditional sausage
---
Filled peppers and mushroom white sauce stew – Romanian traditional food:
The filled peppers known in Romania as "Ardei umpluti" are a Romanian and Moldavian traditional dish. They are composed again from minced meat (usually pork), rice, eggs, onion, tomatoes, dill, parsley, tomato sauce, salt and other condiments. Wine and sour cream can be added after cooking them in boiled water. For vegetarians the minced meat can be changed with veggies, mushrooms or soy. Another national food of Romania are the mushrooms white sauce stew know as "Ciulama de ciuperci". It is composed by mushrooms, onion, garlic sauce, salt, butter, flour, black pepper, dill, parsley and veggies juice. The mushrooms are cut and fried with onion and garlic sauce. Later are added the flour mixed with butter, the dill, parsley and the other condiments. In the end you add the sour cream and can be served with mamaliga.
---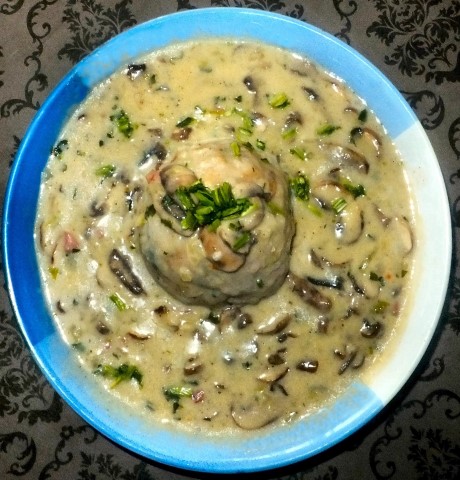 Mmmm…Yummy isn't it? Here for you mushroom white sauce stew
---
Tripe soup – Romanian traditional food:
The tripe soup known in Romania as "Ciorba de burta" is one of the best soups and a favorite dish for many Romanians. It is composed from meat soup, beef tripe, pork legs or beef marrow bones as meat. Then you add garlic, onion, celery, carrots, red pepper, parsley, egg, garlic sauce, bay leaves, salt, pepper and other condiments. The tripe soup is not good without either lemon sauce, lemon salt, vinegar or borsch. To cook this Romanian traditional food you will need in total 3 to 5 hours most of the time being spent on cooking the meat. In the end for the tripe soup to taste even better you add sour cream. For spicy food lovers, you can eat it with hot pepper.
---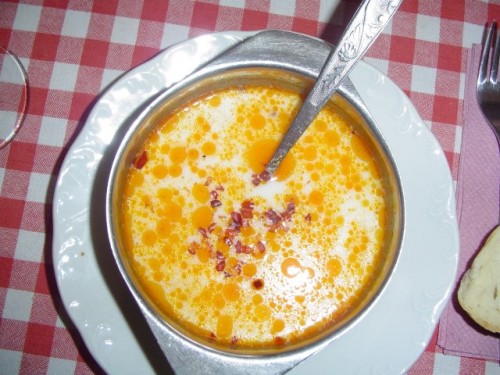 Tripe soup will be one of your favorite dishes if you try it in Romania
---
Creme brulee, sweet cow cheese dumplings and poultry milk – Romanian traditional food:
Some of the Romanian traditional deserts which we are telling you here about, are very tasty believe us. Creme brulee, known in Romanian as "Crema de zahar ars" is a popular desert dish. It is composed by eggs, milk and sugar and you can add on top vanilla or whipped cream. The sweet cow cheese dumplings know in Romanian as "Papanasi cu branza" are a fine desert spread all over Romania. It is composed by sweet cow cheese, flour, eggs, semolina, biscuits and sugar. On top to be even tastier, you will add sour cream, jam, cream or sugar.
---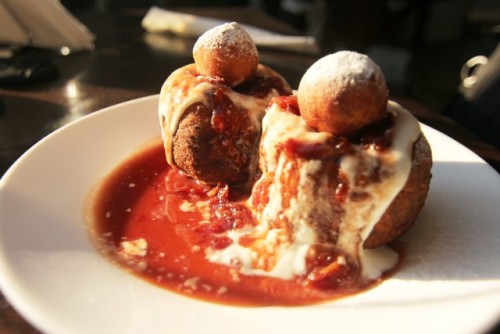 You can taste and try in Romania this delicious sweet cow cheese dumplings
---
The last presented desert is the poultry milk known in Romanian as "Lapte de pasare". It is one of our favorite deserts because it is not difficult to make and so tasty. (Find more journeys on blog.worldlifetimejourneys.com) It is composed by egg yolk which together with sugar, vanilla and milk compose a cream similar with vanilla. To obtain the final composition, you will add egg white mixed with sugar and vanilla. We try to present here for you the best Romanian traditional food. Now that we raised your appetite we invite you to visit Romania and taste the national tasty dishes!
---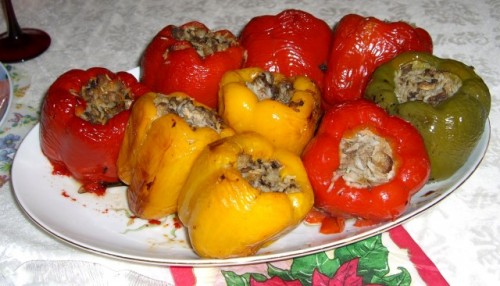 Last but not least, you can try filled peppers, a Romanian traditional food
---
Summary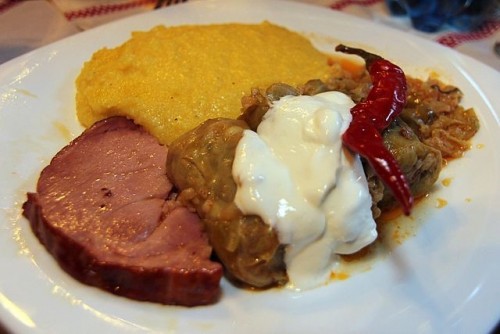 Article Name
Romanian traditional food is coming in many different forms. You just need to taste it
Description
Romanian traditional food is different from region to region. All who come in Romania can taste it, most leaving satisfied after trying it
Author
Publisher Name
Publisher Logo