Welcome to Prislop Monastery
---
Location:
Silvasu de Sus in Hunedoara County, Romania
Address:
On DJ687K only few km after the village of Silvasu de Sus, Hunedoara. The monastery is situated 13 km away of Hateg City and 16 km away of the better known Hunedoara City.
Date of construction:
Around 1405, but it passed through different periods of restoration and modernization.
Opening hours:
From morning until sunset (all day). Be aware that during the Holy Days can be crowded.
Prices:
Free
Telephone:
Prislop Monastery +40 720 855831 or +40 372 779206
Website:
Best time to go:
You can visit Prislop Monastery anytime during the year, but the best months are between March and June and between September and early November. You can visit outside these months but during winter it can be unpleasant the way to the monastery as the weather and the road can be unpredictable while during summer and Holy days please be prepared for big crowds as pilgrims head to the monastery from all over Romania during the warmest months of the year.
How to get here:
By car:
The best way to get to Prislop Monastery is by car. Any other form of transport can prove difficult in getting you here. The monastery is the end of the County Road DJ687K that comes from Silvasu de Jos commune. If you are coming from south and west from Timisoara-Lugoj-Caransebes direction or from Bucharest-Pitesti-Ramnicu Valcea-Targu Jiu-Petrosani you will definitely pass through Hateg City. To get here you will come on the National Road DN67 (from west) and the European Road E79 (from south). From Hateg there are around 13 km to the monastery. Follow the county road DJ687A and in SIlvasu de Jos turn left on DJ687K towards Silvasu de Sus and then to Prislop Monastery.
If you come from north (Sibiu on E68/A1 or Deva on E79) you will pass through Hunedoara CIty. Make sure you turn on the county road DJ687 towards Hunedoara and from here towards Silvasu de Jos on DJ687A same one coming from south from Hateg direction. Don't forget to turn right this time on DJ687K when in SIlvasu de Jos towards Prislop Monastery.
By train:
The closest you can get by train to Prislop Monastery is to Hateg or Hunedoara cities. You can arrive here with connections from any bigger city of Romania (for routes, prices and timetables check www.cfrcalatori.ro or www.infofer.ro).
By bus:
To get here by bus you can start from any big city from Romania and the prices and times to get closer to Prislop Monastery are varied depending from how far you are traveling. Check here for transport from different cities in Romania (http://www.autogari.ro). On the right side as you go on the website you can choose different city to start from. Keep in mind that the best is to get first either to Deva, Hunedoara or Hateg where you will find many daily buses going towards Silvasu de Jos commune. From here, either try to get a car (hitch hiking) that goes to the monastery or go on a 5 km walk on the road getting you to the monastery. But there are many chances you can catch a car.
By taxi:
We suggest you to take the taxi only from Deva, Hunedoara or Hateg Cities as if you take it from further away it might be costly. Taxi can be a quicker, better in this situation, but more expensive way to get here than the buses.
!Either you go by train or bus none of them will leave you at the monastery. You will have to walk from either SIlvasu de Jos or Silvasu de Sus (5 km respective 2-3 km).
---
---
Prislop Monastery
We heard for the first time about Prislop Monastery only few years ago. After deciding when to go, finally we choose this sacred place to be one of the highlights of our September trip in 2014. For me and my group of friends it was the first stop on the 10 days trip around Romania. We arrived at the monastery on a Saturday morning and it was our biggest mistake to go there that day, just because it happened to be weekend and also a Holy Day in the same time. So, you can imagine a huge crowd of thousands of pilgrims going there in the same time. The parking there was full. Cars or coaches arrived one by one, so we hardly had space to move around. But the feeling to be in this special place worth all the effort.
Now, if you don't plan really well ahead (like we did not in this particular case) you will end up in big queues. Believe me, it is a big difference if you decide to go during weekends or Holy Days or you will go during the week either in spring, autumn or winter. As much as you can, try to avoid the crowds and the festive days. Just to give you an example, we have been at Prislop Monastery two times. The first time we've been there in September 2014, we had to wait around 5 hours to get to the most sacred place at the monastery. This is the grave of Arsenie Boca, considered to be the Saint of Ardeal (a big region in Romania). During his life many miracles happened. But later in the article will talk a bit about him.
---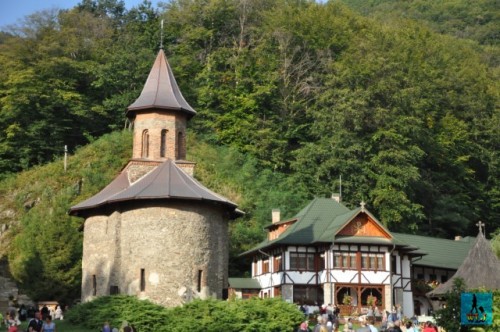 The beautiful and peaceful Prislop Monastery is built in a splendid natural area
---
The second time we've been there it was in spring of 2016 and this time was a big difference. I remember we arrived there on a Tuesday or Wednesday morning and there were much less tourists and pilgrims than last time. As a comparison, this time we could easily get in without problems, we could get holy water without waiting in a big queue and also we arrived at the Holy grave of Arsenie Boca in less than one hour. Thousands of pilgrims visit Prislop Monastery every month and come here with different diseases and health problems, others have sentimental problems or different other personal or financial problems. Most of them went on the right way and started to feel better and better after one or more visits to the monastery and specially after praying at the sacred grave of Ardealului Saint.
Once you get there make sure you follow some strict but important rules for visiting the monastery. I must tell you that the road that gets you to the monastery is from place to place really curvy and there can be few bumps as well so please drive carefully. When approaching the monastery keep in mind that there are two possibly parking places. (Find more journeys on blog.worldlifetimejourneys.com) On busy days you will not get the chance to park in front of the monastery specially if you arrive late. But you can park 1-2 km away where is the second parking space. Here you will also find many street vendors offering you from local food and drinks to religious artifacts and other Romanian souvenirs.
As you pass the entrance gate, even if it's hot outside, make sure you cover your legs and arms with the clothes provided at the entrance. This is specially for ladies who must also cover their heads. You must keep the silence at all times and walk only in the places you are permitted to. On both sides as you walk towards the monastery you will find to buy religious artifacts, books and other souvenirs. You cannot go inside with pets or to smoke. When getting to the sacred grave of Arsenie Boca, make sure you pray in silence, you can kiss the cross and leave your turn quickly and quietly. Prislop Monastery is a sacred place. Please visit in silence and respect the rules and people around you. But now let me tell you about this place in details.
---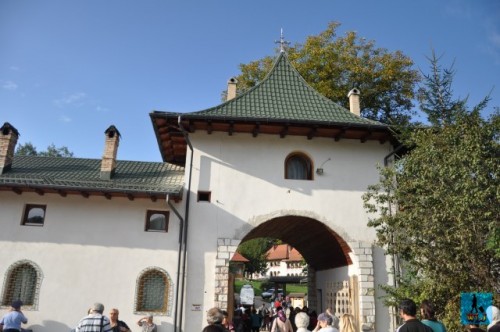 Prislop Monastery is waiting its pilgrims from all over the world

---
Location, importance and the legend around Prislop Monastery:
Prislop Monastery is situated in one of the most beautiful mountain areas from Romania not far from Retezat Mountains. This region is called Hateg Country a name coming from Hateg City which is the center of the region. The monastery you visit is situated at 640 m height and is surrounded by hills. For hundreds of years now, this is an important place for your and others pilgrimage, specially for Romanians and not only. But the importance and the sacredness of the monastery increased during the life of Arsenie Boca. This monastery is mainly inhabited by nuns. Some of them continue the old craft of painting religious scenes and portraits on glass.
The legend of Prislop Monastery says that Lady Zamfira an important person in those times came here to threat her health problems. After she drank from a spring next to the monastery, she got well quickly. Because of this miracle with the Holy water, she decided to reconstruct the monastery. But let me tell you the second legend. This time a more recent one is about the Wise Priest, Arsenie Boca. Many people came here to heal during his life, because he had a special gift from God. He was able to know everyone's problems even before they started talking. He knew exactly what to tell them and people always listened to his teachings carefully. Because many miracles happened during his life, every day and year more and more people come to pray here.
---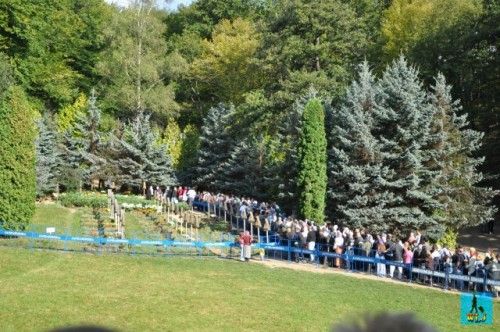 In a day like this you must be full of patience to get to Arsenie Boca's saint grave
---
History of Prislop Monastery:
You must know that the first founder of the monastery was Saint Nicodim or Nicodim from Tismana. He was in good relations with Hungary's king, Sigismund and started to built a monastery in this area around the year of 1405 at the beginning of the XV century. For more than 150 years Prislop Monastery continued quietly to grow its cultural life and to protect people around. You must know that around 1564, Lady Zamfira started to reconstruct the monastery. Between 1564 and 1580, this monastery was rebuilt, so Zamfira was considered the second founder. She also helped the monastery to be painted inside and brought a miracles making icon of Our Lady Mary.
You must know about the restorations of the monastery that the interior frescoes were repainted in 1759 by Simion from Pitesti. For about 200 years the monastery was under Greek-Catholic dominance, but in 1948 it came back to its Orthodox origins. I must tell you about the second restoration period which started as well in 1948. At 25 November the priest Arsenie Boca came here from Sambata de Sus and started to transform this place into a more beautiful one. He restored the monastery with the help from brother Nicolae Zaharia. In the last decades Prislop Monastery started to have a more impact over the people from everywhere and more pilgrims are coming here every year.
---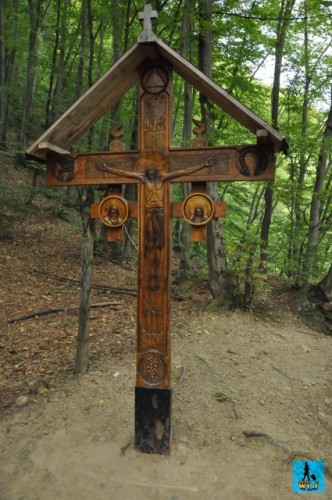 Next to this cross you will find the trail that gets you to the cave of Ioan Sihastrul

---
About Saint John (Ioan) from Prislop Monastery:
Saint John from Prislop lived here for several decades. He dug a cave into the rock not far away from the monastery and lived here for many years. A hunter killed him because he was confused with a wild animal. Today, you know him as Ioan Sihastrul. You can visit his cave by coming at the monastery and filling you with positive energy. The legend around him is still present and he is considered a saint because is well known to God and rich in holy spirit.
About Saint of Ardeal, Arsenie Boca and his activity at Prislop Monastery:
The little Arsenie Boca was born in the village of Vata de Sus, near Brad City at 29 September 1910. Know when young as Zian, he started school in 1919 after the first World War and finished the Orthodox High School from Brad in 1929. (Find more journeys on blog.worldlifetimejourneys.com) He continued his studies in Sibiu and Bucharest and besides theology he studied medicine and beautiful arts. After studying few years and praying at the Saint Mount Athos from Greece, he turned back home with more knowledge. In 1939 he starts at Brancoveanu Monastery from Sambata de Sus and one year later gets the name of Arsenie.
Priest Arsenie Boca was wrongfully arrested and questioned between 1943 and 1948 and after only 3 years at the monastery (he came at Prislop in 1948) was brought by force to work at Danube-Black Sea Chanel and later in 1955 he was again arrested and questioned. In 1959 he was forbidden from keeping the masses in the church. During the next decades he had a difficult life with many periods spent in arrest. But every time, he found the silent places and monasteries especially at Prislop Monastery where he could paint splendid icons and frescoes. Finally, Arsenie Boca passed away and joined God on 28 November 1989 in Sinaia. His grave from Prislop where he was buried on 4 December 1989 is of a very high importance for pilgrims from everywhere.
What can you do and see in Hateg Country and our recommendation:
I must tell you that this are from Romania is not all about Prislop Monastery. Probably of a very high importance is Huniazilor or Corvinilor Castle which you can visit in Hunedoara. You can see and visit also old Dacian citadels in Orastie Mountains or on the road between Hateg and Caransebes cities. These citadels called Ulpia Traiana Sarmizegetusa or Sarmizegetusa Regia. Besides these ancient places you can see the Dinosaurs Geo Park or the Aurochs Reservation. Also, do not miss the fortified churches and monasteries in the area, one of them being Densus Church. In the end we recommend you to spend a couple of days in this beautiful are from Western Romania because there are plenty to see and do. Visit Prislop Monastery!
---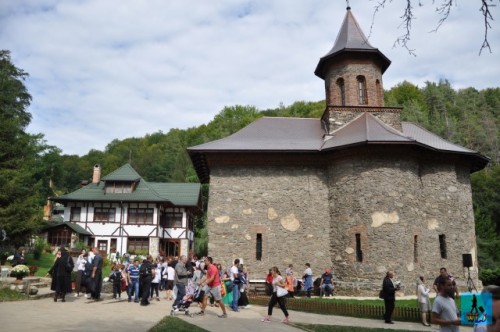 If you want to improve your spiritual life, make a lifetime journey to Prislop Monastery
---
Summary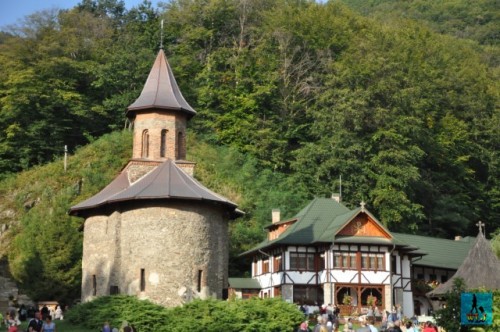 Article Name
Prislop Monastery is one of the most important pilgrimage sites in Romania
Description
Prislop Monastery of a sacred beauty, situated in a beautiful Romanian area is a quiet place strongly related to Ardealului Saint Arsenie Boca
Author
Publisher Name
Publisher Logo