Welcome to Poenari Citadel
---
Location:
Arges County, Romania
Address:
On the National Road DN 7C between Vidraru Lake and Vidraru Hydro-Central on north, Capatanenii and Arefu localities in south.
Date of construction:
XIII-XV centuries
Altitude:
850 m on top of Cetatuia mount
Opening hours:
09.00 – 18.00
Prices:
Adults: 5 RON (Romanian Leu)
Children, Students and Seniors: 2 RON (Romanian Leu)
Telephone:
Artex Cultural Foundation +40 21 313 19 47
E-mail:
Website:
Best time to go:
For the best weather to visit Poenari Citadel with less chances of rain and also less crowded try to go March-May or September-October, but consider that the open season is from March to October with the possibility of getting more tourists during the summer months.
How to get here:
By car:
Situated 25 km north away from the city of Curtea de Arges the best way to get to this castle/citadel is by car. If you come from north on DN 7C keep in mind that this road (Transfagarasan Road) is closed during winter and bad weather. From south you can enter DN 7C either from Ramnicu Valcea (from south-west via DN 73C), from Campulung Muscel (from east via DN 73C) or from Bucharest, Pitesti and Curtea de Arges (from south via A1/E81 or DN7). From Bucharest is 180 km away – approximately 2h 30 min.
By train:
You can get here from any big city from Romania with the last stop in Curtea de Arges City (for routes, prices and timetables check www.cfrcalatori.ro or www.infofer.ro).
By bus:
To get here by bus you need to take a bus to Capataneni from Curtea de Arges bus station. It leaves the city at 9.45, 13.00, 14.15, 15.10, 17.00 and 19.15. For more info check on www.autogara-ag.ro/index.php?pag=traseul2. From Capataneni is about 2 km.
By taxi:
We suggest you to take the taxi only from Curtea de Arges City as if you take it from further away it might be costly. Taxi can be a quicker, but more expensive way to get here than the buses.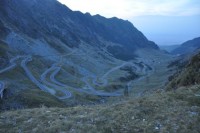 Arges County
---
---
Poenari Citadel
Location, altitude and surroundings of Poenari Citadel:
Medieval Poenari Citadel, this majestic and historic castle is as impressive as mysterious can be. It lies on top of a 850 m mountain called Cetatuia (Citadel) and 400 m above the valley floor. Either way you approach it, you cannot miss it as you can see it especially on clear days from far away. It is situated very close to one of the most important lakes and dams from Romania, Vidraru (about 4 km south) and 2 km to the north of Capataneni village, part of Arefu commune. If you come from the north, you will have unforgettable views of the Transfagarasan Scenic Road, one of the bests you could go in Romania (open only on good weather and closed in winter from November till March). On the way here you can stop to Balea and Vidraru Lakes which will enrich your experience. From the south the road is not so scenic until you pass Curtea de Arges City which we highly recommend to visit. The citadel has a long form with 5 towers from which four are of a round shape and the walls are 2-3 m thick.
History, legends and importance of Poenari Citadel:
The mystery and history of this citadel is surrounded by the legend of Vlad Tepes (known as Dracula) which escaped the Ottomans hiding in this place which was also his second home. It is said that initially there was just a single tower built by Negru Voda ruler and his people, but later the building got its best known shape on the times of Vlad Tepes sometime in the XV century. He ordered the construction of this castle as a defense from the ottomans. As mentioned on the official website, there are two interesting legends around this citadel. The first one is about Vlad Tepes (The Impaler) who on his times was a cruel ruler and used to kill thieves, lazy people and traitors by impaling them. (Find more journeys on blog.worldlifetimejourneys.com) Because of his cruelty, the rich people from Targoviste gathered around and planned to kill him, but Vlad heard about this plan. He surprised them on the Easter day when his people capture all rich people at the church and ordered them to built by Toma's Sunday a citadel right on top of the hill where only the eagles can rich. Many died during the construction, but those who survived were forgiven. The second legend is about Arefu Village where 7 brothers named Dobrin, helped Vlad Tepes to escape from the Ottomans by shoeing his horses the opposite way that it should be done and because of this, the attackers were confused and the impaler escaped. Because of this triumph, Vlad Tepes offered them 7 mountains from Fagaras. The importance of Poenari Citadel comes from the final victory of the Romanian people over the Ottomans in 1462.
Famous people around, ghosts and what involves a visit to Poenari Citadel:
Unfortunately, this historic citadel also known as "The citadel of Vlad Tepes" or also as "Eagles nest of the old heroes", once very impressive, today is only ruins, but even like this it can worth a visit especially for the history and mystery is surrounded by, for the scenic road is situated on and for the splendid views it offers over the Arges County and Argesului Valley and Keys with an unforgettable scenery. We highly recommend visiting this castle only the people in a good physical condition as there is no elevator to get you up this mountain and you will have to climb 1480 steps. Poenari Citadel served as a home for Vlad Tepes and also as a prison and a good place for Romania's vault and it has only one entrance which long ago was closed with a mobile bridge. It is good to know that the famous writer Jules Verne was inspired by this castle when he wrote his book "The castle from Carpathians". It is said that the citadel is one of the most haunted places from the world (top 5), attracting annually thousands of tourists. Some people saw or heard mysterious sounds, connections with other worlds and other paranormal activities. During the last restoration period between 1969 and 1972 there were built an access way and path to the medieval citadel and also the walls were restored. Poenari Citadel, this mysterious medieval castle is a must see if you are in this area offering you a good day out with your friends or family. Visit Poenari Citadel!
---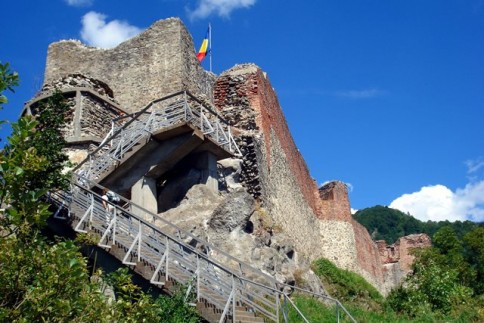 Medieval Poenari Citadel lies on top of Cetatuia Mountain
---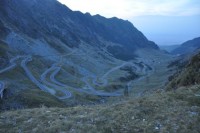 Arges County
Summary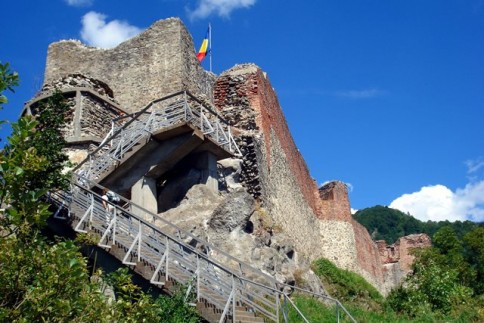 Article Name
Poenari Citadel is a medieval place and the most haunted from Romania
Description
Poenari Citadel is one of the most haunted places in the world and a must see medieval castle. Come here for an unforgettable journey.
Author
Publisher Name
Publisher Logo