Welcome to Petra in Jordan
---
Location:
In the Ma'an Governorate from the central-south part of Jordan
Address:
About 240 km south of Amman, Jordan's capital and 120 km north of the city of Aqaba at the Red Sea.
Area/Surface:
264 km²
Date of construction:
Around the 3rd century BC built by the Nabataeans Arabs.
Opening hours:
Summer: 6am to 6pm.
Winter: 6am to 4pm.
Prices:
For tourists who sleep minimum one night in Jordan the tickets are:
One full day: 50 JOD (Jordanian Dinar) which is about 70 US Dollars.
Two full days: 55 JOD which is about 77-78 US Dollars.
Three full days: 60 JOD which is about 84-85 US Dollars.
For tourists who do not sleep in Jordan the ticket is: 90 JOD or approximately 127 US Dollars
More about other tickets and tours please check Official page
Telephone:
Petra in Jordan +962 321 570 93
E-mail:
Website:
Best time to go:
Petra in Jordan can be visited anytime of the year due to the warm weather. However we do recommend you to visit during the spring between March and May or during autumn between September and November just to avoid the heat summer wave with temperatures of more than 35° C. During spring or autumn the temperature not higher than 25° C makes from a visit to Petra a perfect day. We highly advise you to arrive very early in the morning not later than 7am if you wish to avoid the big tourist crowds.
How to get here:
By car:
From the capital Amman in north you have two good options. You can come on the Desert Highway following the Highways number 35, 15 and again 35. Or you can come on the King's Highway following the road towards the Highway 65, then take Highways number 60 and 35 to get to Petra. The first option is about 240 km and takes 3 hours driving. The second option is more scenic and takes you 260 km during a 4 hours drive. Coming from the port city of Aqaba in south, you come on the Highways number 80, 15 and 35. The total journey is about 2 hours on a 120 km distance.
By bus:
To get here by bus you have various options either from Amman or Aqaba. But more about the buses and public transport please see the Official page.
By plane:
Jordan has two major international airports where tourists can arrive. You can choose to arrive either on Queen Alia International Airport from Amman or on King Hussein International Airport from Aqaba.
---
---
Petra in Jordan
Importance and history of Petra in Jordan:
Petra in Jordan is situated in a remote and desert area from southern Jordan. To get here by car is easy by just following the brown signs that indicate a tourist attraction. The importance of this place came together with the Arab Nabataeans period. These people it is thought that built the ancient city of Petra around the year 300 BC. It is one of the most important tourist attractions in the world and definitely the most visited from Jordan. This ancient and archaeological park is important also and unique for the rock-cut architecture and the splendid combination of styles. Petra in Jordan is included from 1985 on the list of the UNESCO World Heritage Sites. Also, it is considered to be one of the new 7 wonders of the world and a place to see before you die.
The sculpted city of Petra was in the past the capital of Arab Nabataeans people. They lived in this area from the 6th century BC. The complex was built more than 2000 years ago carving directly in rock the city of Petra. Once considered a city, today is more to do with tombs. When later the Romans conquered Petra, it became part of the Roman empire around 106 AD. They built here and introduced their own elements like a Roman bath, forum or theater and not only. It's important for you to know that Petra was for many centuries a hidden, forgotten and unknown place. Only in 1812 it was rediscovered by Johan Burckhardt an explorer from Switzerland who discovered this place with the help from a Bedouin and dressed as an Arab person.
---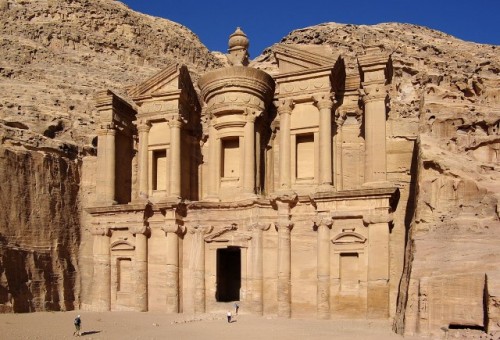 The splendid Treasury, the facade that you see first time before entering Petra in Jordan
---
Other names, movies and threats related to Petra in Jordan:
The splendid, historic and charming city of Petra in Jordan, is showing its great walls and façade as you come to an end from the narrow canyon that leads you here. To get to Petra in Jordan, you must make your way through the beautiful canyon called Siq. This gorge is about 1.2 km long, but very narrow. What you see at the end of it is even more beautiful. (Find more journeys on blog.worldlifetimejourneys.com) The magnificent façade is showing in front of you. It is made from red-pink stone and this is why it's also called the Rose City. In fact, the word "Petra" is coming from Greek language and means "Rock".
You must know that Petra is a famous place for movies. Many parts from the 1989 movie "Indiana Jones and the Last Crusade" were filmed here. Parts of Mortal Kombat, The Mummy Returns or Transformers movies were also filmed here. Unfortunately there are many threats that in time are slowly affecting the ancient city. Erosion, winds and weather in general, together with the massive crowds of tourists or the bad reconstruction are all affecting Petra. Also is good for you to know that the city was heavily destroyed in 363 AD by a powerful earthquake. Because of the threats over Petra, many organizations united to fight against these through various projects.
Architecture styles and what you can see at Petra in Jordan:
Petra was for about 600-700 years the most important trading place in this area. Also it's a strategic city for caravans between India, China and Syria, Egypt, Rome or Greece. It is situated 914 m above the sea level. Nabataeans combined the Assyrian and Egyptian styles with the Greek classical one, to built this ancient Rose City. The most important part you can see is the Treasury which is the façade and the most beautiful, the most photographed part of Petra in Jordan. In Arabic language it is called Al-Khazneh. This welcoming and gorgeous wall is 27 m wide and 40 m high. It is also the most rich in decorations and elements. Because initially was used as a tomb for a Nabataean king, it is said that the urn which stands on top of the Treasury contains pure gold.
There are other two important places that you should not miss when entering Petra. The first one is called "The High Place" just because you have to go on a steep climb to get up on the Attuf Ridge where you can see two obelisks and a high altar. Here it is said that the Nabataeans gave offerings to their gods Al Uzza and Dusares. The other important place is the Deir or known to the people as the Monastery. It is a 46 m wide and 40 m high rock that as well is carved so ancient people could go in. Inside there is a big room where important religious days and festivals took place. If you come by a 5 days trekking tour, you will approach Petra from the Monastery side. This place is situated about half an hour from Petra's main entrance.
Other buildings and tourism at Petra in Jordan:
Besides the important buildings mentioned above, you can see other interesting, some strange buildings which will not disappoint you. The Roman Theatre is a fine example that remains since Roman times. It's a huge building dating from the first century AD having a Greek style from the Nabataeans period. Important to mention is that the Theatre is also carved in the rock and has more than 3000 seats. The Royal Tombs are so interesting to see and their impressive facades are a fine example of ancient architecture. They are situated about 250 m away from the Theatre and you can get to them by an easy walk up. At the top you will be rewarded with superb views. The most important tombs are: Tomb of Unayshu, Corinthian Tomb, Urn Tomb, Silk Tomb, Sextius Florentinus Tomb, Palace Tomb and Carmine Tomb.
Once inside, you cannot miss the East Cliff and the magnificent views from the Colonnaded Street. Go and see Wadi Turkmaniyyeh a nice walk connected with Petra in the north side of it which can get you to other two further tombs. Also the "Litte Petra" which is only few kilometers away to the north, has a little Siq and beautiful facades. Inside you can see and explore the Temple if the winged lions together with other temples, altars and buildings. Even if Petra in Jordan is situated in the middle of the desert, the modern city Wadi Musa (Valley of Moses) few km away is made for tourism as hotels, restaurants and shops are found here. Since it was introduced to modern tourists, Petra tourism started to grow. Today more than 500.000 tourists are visiting the ancient city every year.
---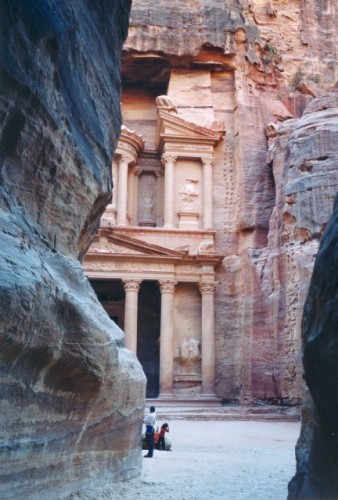 Following the narrow canyon called Siq, you finally get to Petra in Jordan
---
Activities at Petra in Jordan:
As an important activity, we recommend to take a night tour of Petra just because it's a totally other experience than the day tour. First of all are less tourists and you get the chance to walk through the Siq with candles and accompanied by Bedouin music. We also recommend another activity, another way to see Petra. (Find more journeys on blog.worldlifetimejourneys.com) This is by riding a camel so you can admire this 2000 years old wonder of the world. If you have more time to spent in the area you can go and visit two museums: Petra Archaeological Museum and Petra Nabataean Museum. You must know that either for pleasure or for those who cannot walk too much to get to Petra, there is the possibility to "hire" a camel or a donkey to go inside and see the main attractions.
About safety in the area, other things to know and our recommendation regarding Petra in Jordan:
Tourism in Jordan and also at Petra unfortunately decreased since conflicts in neighboring Syria started in 2011. But even like this, we must tell you that this place is totally safe. Why do we say this? It is just because you are far away from the conflicts and once you fly in Jordan and make your way south you will be even further. Other than this nothing dangerous happened in this remote desert. If you want to stay minim one week in Jordan, why not considering a visit to the Dead Sea, to the spectacular scenery of Wadi Rum in south, to the beaches at the Red Sea near the city of Aqaba? Or for some moments of silence try a picnic at Beida, Heishah or relax at a Turkish Bath.
Most of the tourists enter Petra in the morning through the canyon. The views that come in front of you when approaching the façade (Treasury) of Petra are magnificent. Depending of the moment in the day, the colors vary a lot and change in pink, red, yellow or orange. To be sure you spot the best view over Petra, we recommend you to go there early morning so you will miss the huge tourist crowds. We also recommend to stay here for minimum 3 days. Only like this you can fully enjoy and visit Petra in Jordan!
---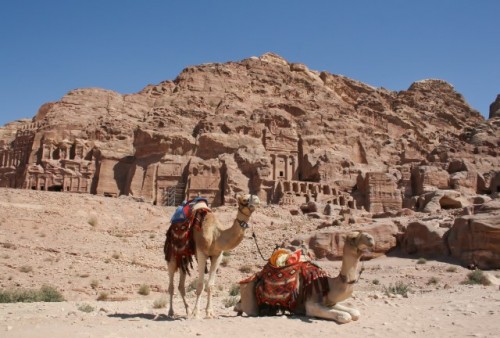 Make a ride on a camel to see Petra in a different way
---
Summary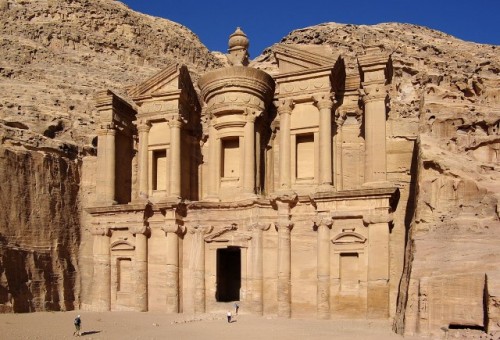 Article Name
The ancient city of Petra in Jordan, also called Rose City has a unique architecture
Description
Petra in Jordan is a 2000 years ancient city considered to be one of the new 7 wonders of the world and included in UNESCO World Heritage Site
Author
Publisher Name
Publisher Logo