Welcome to Pelisor Castle
---
Location:
Prahova Valley in Prahova County, Romania
Address:
No. 2 Pelesului Alley (Street) in Sinaia (16100), Prahova
Date of construction:
1899-1902
Opening hours:
Thursday, Friday, Saturday and Sunday 09.15 – 16.15 (last group entry). Wednesday 11.00 – 16.15. Monday and Tuesday is closed.
Prices:
Please note that Pelisor Castle offer tours in various languages.
Basic tour (Ground floor + First Floor – 45 min.):
Adults: 20 RON (Romanian Leu)
Children, Students and under 26 euro card: 5 RON (Romanian Leu)
Seniors: 10 RON (Romanian Leu)
Temporary Exhibitions:
Adults: 6 RON (Romanian Leu)
Children, Students and under 26 euro card: 1.5 RON (Romanian Leu)
Seniors: 3 RON (Romanian Leu)
Photo: 32 RON (Romanian Leu) / Video: 53 RON (Romanian Leu)
Telephone:
Peles Castle +40 244 310 918 or +40 244 312 184
E-mail:
peles.ro@gmail.com or contact@peles.ro
Website:
Best time to go:
Pelisor Castle can be visited any time of the year because regardless the weather, this smaller but precious Romanian pearl is always welcoming visitors in any type of weather. Of course, we recommend to avoid the heat and the massive crowds of tourists during the summer months. We suggest you to go either in April to June or September-October, but the winter season when everything is covered in white is also a good time to go and spent some more days in one of  Prahova Valley's mountain resorts.
How to get here:
By car:
From south (Bucharest-Ploiesti) take the European Road E60 which is the same as the National Road DN1 (approximately 150 km away from Bucharest – 2 to 2.30 hours driving) and when you get to Sinaia City where Pelisor Castle is situated follow the signs to the castle (they are normally on a brown background indicating a tourist attraction). If you come from north (Cluj Napoca, Targu Mures, Brasov) take the same European Road E60 (DN1-DN13). Then from Cluj Napoca the biggest city in north-west Romania is about 320 km to drive (approximately 5 hours). The last biggest cities you will pass before Sinaia are Brasov and Predeal and again when you get to Sinaia City follow the signs to the castle. Please keep in mind that parking is not allowed in front of the castle, but there are various paid parking possibilities and from there you have to walk up to the castle for about 10-20 minutes. Also be aware that on peak times the traffic on the road can be very heavy, so consider alternative transport.
By train:
You can get to Sinaia City from any bigger city from Romania directly or with connections, but the quickest way is to come from Bucharest and you can also avoid the road traffic (for routes, prices and timetables check www.cfrcalatori.ro or www.infofer.ro).
By bus:
To get here by bus you can start from any big city from Romania and the prices and times to get in Sinaia are varied depending from how far you are traveling. Check here for transport from Bucharest (http://www.autogari.ro/Transport/Bucuresti-Sinaia?lang=en), but on the right side as you go on the website you can choose different city to start from.
By taxi:
We suggest you to take the taxi only from Sinaia City or from the neighboring mountain resorts as if you take it from further away it might be costly. Taxi can be a quicker, but more expensive way to get here than the buses.
!Either you go by train or bus none of them will leave you at the castle, so you can admire the beautiful small mountainous city of Sinaia which is also a famous mountain resort in Romania, while you walk up to the castle approximately 30 to 50 minutes depending on how fast you walk.
---
---
Pelisor Castle
Last week I was telling you about the Carpathian Pearl, Peles Castle. Now is that moment when I must look back and take out my memories telling you about his brother Pelisor Castle. Maybe not as famous as Peles, but still so charming and beautiful, this smaller palace I visited the same number of times like the castle I fall in love with. Standing nearby, this building has fascinated me as well from the first time I visited it and every single time is welcoming me with the same smile, the same happiness. It might not be as impressive as Peles Castle, but Pelisor Castle has a specific air, has something charming in it that for sure will fascinate you as well.
---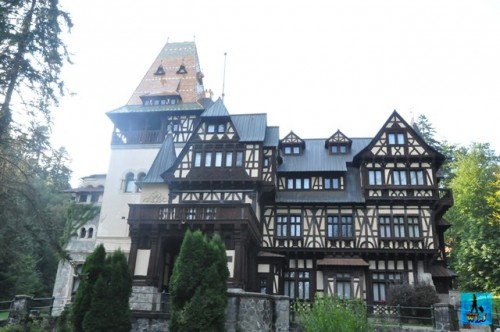 Beautiful Pelisor Castle is waiting for your visit
---
You cannot go in Sinaia or Prahova Valley without visiting also Pelisor Castle. It should not take you more than 3-4 hours all together for both Romanian gems. For those who want to eat or drink something, I know that most of the time there is a small restaurant open in between these two or if you want something special, then head to Sinaia mountain resort after your visit and the culinary possibilities are many more. Last time I went with my friends in Sinaia in September 2014, I got the chance to visit Pelisor Castle. As about the funny story as we had it, please go and read it on Peles Castle article. But let me tell you something more about Pelisor Palace.
---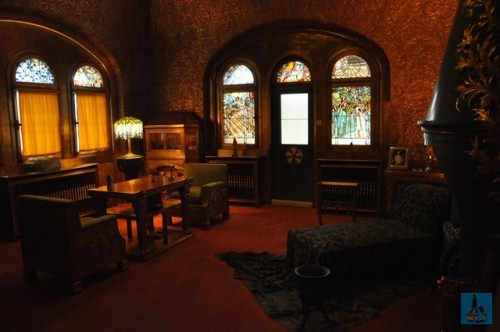 The amazing Golden Room from Pelisor Castle with its thistle leaves

---
About the building of Pelisor Castle and its architects:
Pelisor Castle situated in one of the most beautiful mountain resort from Romania, Sinaia is the little brother of the most consecrated palace in the country, Peles Castle. The main architect of this castle was again the Czech Karel Liman who built it between 1899 and 1902. But before this was built, other important buildings around the two castles were built. (Find more journeys on blog.worldlifetimejourneys.com) Among them are the Treasure-ship, Garden House, Cavaliers House, Architects House and Guards House. As for decorating the castle, Liman was helped by the Viennese artist Bernhardt Ludwig. From the architecture point of view, Pelisor Castle is again a combination of styles but this time some Romanian elements are coming into view like the two towers that remind those who know, about the churches towers from Bucovina.
---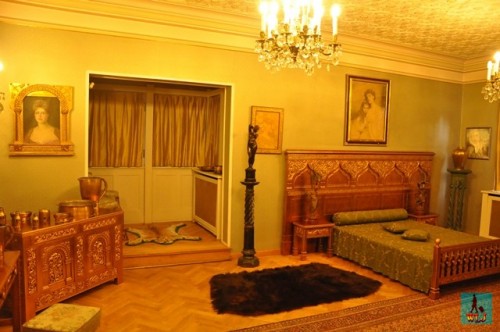 Simple but elegant, Queen Mary's Bedroom at Pelisor Castle
---
About the internal decorations and the Royal family who lived in Pelisor Castle:
Pelisor Palace was built to the desire of King Carol I who wanted to offer as summer residence a fantastic place to live for the following inheritors. King Ferdinand who was in fact his nephew and Queen Mary his wife lived in Pelisor Castle from 1902. Later on, the Royal family extended and the couple had four children: Carol II who was the future king, Elizabeth queen of Greece, Marioara queen of Yugoslavia and Nicolae. The most important contribution as the internal decorations was the loved Romanian Queen Mary. Together with Ludwig, the artist from Vienna, she enriched and made the castle to look happier. The internal decorations are a combination of Art-Nouveau, Romanian, Byzantine and Celtic styles. Queen Mary always loved beautiful things and she really wanted this castle to have a Romanian air. Because of this she added different Romanian elements specially from Prahova Valley all from the 1900 Art. The most important internal decoration periods were between 1902-1903 and 1925-1928.
---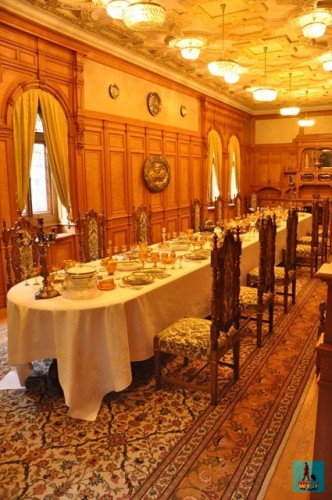 Rich in decorations and a fine art example is the Dining Room at Pelisor Castle

---
The most important rooms and what you can see in Pelisor Castle:
Pelisor Castle was the summer residence for King Ferdinand and Queen Mary together with their children. It has in total only 99 rooms comparative with Peles Castle with its 160 rooms. Queen Mary tried to call this palace a dream house and the most important rooms are as follows. The Honor Hall which is one of the first places you will see inside, is impressive with its oak wood panels and you can also see the portrait of Queen Mary. Then along with your tour you will see the beautiful King Ferdinand's Office. His desk from walnut tree wood is carved on three sides showing Peles, Pelisor and Foisor Castles. Contrary to her husband's office, Queen Mary's office is a combination of folk Romanian, Celtic, Byzantine and Brancovenesc elements. The furniture, at the queen's desire was carved with Mary's symbols: the lily and the cross.
---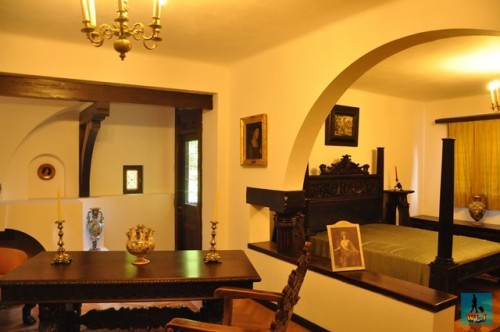 This is the bedroom of the Princes Carol and Nicolae, Pelisor Castle
---
The last three important rooms of Pelisor Castle:
The Gold Chamber is decorated in gold and its golden walls with thistle leafs together with the Celtic and Byzantine furniture are the highlights in the room. Other two important rooms that you can see are the Chapel and the Golden Dormitory (Bedchamber). The chapel decorated with Ruschita marble and a golden arcade urges you to peace and inner silence. It is part of the Queen Mary's apartment. The Golden Bedchamber is probably one of the most beautiful rooms in Pelisor Castle because it has a golden linden tree furniture sculpted in 1909 in Sinaia. King Carol I himself opened a school of art and handicrafts here.
---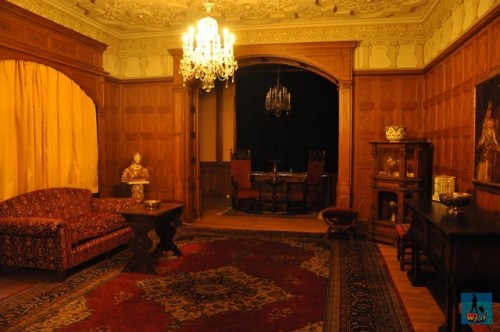 Beautiful combination of art in King's Ferdinand apartment, Pelisor Castle
---
On short about Prahova Valley and our Pelisor Castle recommendation:
Prahova Valley is the most beautiful and most famous region in Romania as about charming mountain resorts. Regardless the time of the year you will come here, there are plenty to see and do for everyone. (Find more journeys on blog.worldlifetimejourneys.com) Besides Sinaia, probably the best on Prahova Valley, you can go In the nearby Busteni mountain resort which offers you the possibility of endless hiking trails and a once in a lifetime journey with the cable car up in Bucegi Mountains National Park. There is also Predeal City and other resorts like Azuga or Poiana Tapului to set your accommodation. Don't forget to visit a bit further Brasov City one of the most beautiful medieval cities in Transylvania and Romania. Important to mention is that Pelisor Castle was inaugurated as a museum for visitors in February 1993. I remember the first time I visited it was only few years after opening and I will continue to do so. We highly recommend you to come in holiday on Prahova Valley and to visit Pelisor Castle!
---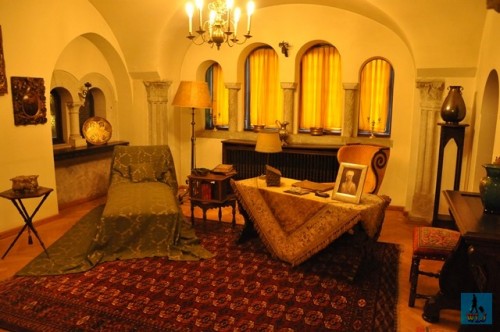 The every day sitting room for the Royal family and guests at Pelisor Castle
---
Summary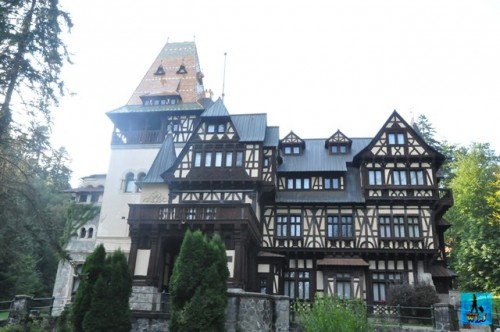 Article Name
Pelisor Castle is another Romanian gem from the beautiful Prahova Valley
Description
Pelisor Castle is another fine example of combined architectural styles that tourists can find near Peles in charming Sinaia resort, Romania
Author
Publisher Name
Publisher Logo