Welcome to Peles Castle
---
Location:
Prahova Valley in Prahova County, Romania
Address:
No. 2 Pelesului Alley (Street) in Sinaia (16100), Prahova
Area/Surface:
3200 m²
Date of construction:
1873-1883 (inauguration ceremony in 1875). Today's appearance was ended in 1914.
Opening hours:
Tuesday, Thursday, Friday, Saturday and Sunday 09.15 – 16.15 (last group entry). Wednesday 11.00 – 16.15. Monday is closed. During winter Tuesdays the castle is closed as well.
Prices:
Please note that Peles Castle offer tours in various languages.
Basic tour (Ground floor – 45 min.):
Adults: 20 RON (Romanian Leu)
Children, Students and under 26 euro card: 5 RON (Romanian Leu)
Seniors: 10 RON (Romanian Leu)
Optional tour 1 (Ground floor + First floor – 1h 15min.):
Adults: 50 RON (Romanian Leu)
Children, Students and under 26 euro card: 12.5 RON (Romanian Leu)
Seniors: 25 RON (Romanian Leu)
Optional tour 2 (Ground floor + First floor + Second floor – 2h):
Adults: 75 RON (Romanian Leu)
Children, Students and under 26 euro card: 17.5 RON (Romanian Leu)
Seniors: 35 RON (Romanian Leu)
Photo: 32 RON (Romanian Leu) / Video: 53 RON (Romanian Leu)
Telephone:
Peles Castle +40 244 310 918 or +40 244 312 184
E-mail:
peles.ro@gmail.com or contact@peles.ro
Website:
Best time to go:
Peles Castle can be visited any time of the year because regardless the weather, this Romanian pearl is always welcoming visitors in any type of weather. Of course, we recommend to avoid the heat and the massive crowds of tourists during the summer months. We suggest you to go either in April to June or September-October, but the winter season when everything is covered in white is also a good time to go and spent some more days in one of  Prahova Valley's mountain resorts.
How to get here:
By car:
From south (Bucharest-Ploiesti) take the European Road E60 which is the same as the National Road DN1 (approximately 150 km away from Bucharest – 2 to 2.30 hours driving) and when you get to Sinaia City where Peles Castle is situated follow the signs to the castle (they are normally on a brown background indicating a tourist attraction). If you come from north (Cluj Napoca, Targu Mures, Brasov) take the same European Road E60 (DN1-DN13). Then from Cluj Napoca the biggest city in north-west Romania is about 320 km to drive (approximately 5 hours). The last biggest cities you will pass before Sinaia are Brasov and Predeal and again when you get to Sinaia City follow the signs to the castle. Please keep in mind that parking is not allowed in front of the castle, but there are various paid parking possibilities and from there you have to walk up to the castle for about 10-20 minutes. Also be aware that on peak times the traffic on the road can be very heavy, so consider alternative transport.
By train:
You can get to Sinaia City from any bigger city from Romania directly or with connections, but the quickest way is to come from Bucharest and you can also avoid the road traffic (for routes, prices and timetables check www.cfrcalatori.ro or www.infofer.ro).
By bus:
To get here by bus you can start from any big city from Romania and the prices and times to get in Sinaia are varied depending from how far you are traveling. Check here for transport from Bucharest (http://www.autogari.ro/Transport/Bucuresti-Sinaia?lang=en), but on the right side as you go on the website you can choose different city to start from.
By taxi:
We suggest you to take the taxi only from Sinaia City or from the neighboring mountain resorts as if you take it from further away it might be costly. Taxi can be a quicker, but more expensive way to get here than the buses.
!Either you go by train or bus none of them will leave you at the castle, so you can admire the beautiful small mountainous city of Sinaia which is also a famous mountain resort in Romania, while you walk up to the castle approximately 30 to 50 minutes depending on how fast you walk.
---
---
Peles Castle
I remember the first time I went to Peles Castle was a long time ago when I was little kid and because I fall in love with this castle, I spent my holidays here on Prahova Valley every year for more than 5 years continuously, visiting this magnificent palace every single year and none of these visits made me bored because every time I stepped inside I felt something different. Comparative with other castles I've been in the world, I consider this to be the best I could see and this is not because I am from Romania, but because none of the castles I've seen are so beautiful and original like Peles Castle. As the years gone by, I was forced by the time to go away from this magnificent castle being involved in many other activities, but I never stopped thinking of it, so after many years I came back with my group of friends in September 2014 to have another meeting with my old friend "Peles". I found it exactly as I remember it was maybe 10-15 years before. It didn't get old like all of us, but instead it looks better and better every year, welcoming me all the time.
---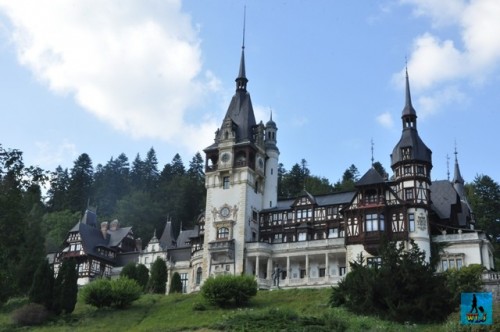 Charming Peles Castle is waiting for your visit
---
I can't forget the tight schedule we had on our September trip and now I laugh every time I remember how much I had to run to get to the castle in time. The last entrance was around 4 pm (16.00) and I know that was past 3 pm when we were still stuck in traffic in Predeal City (about 20 km away). Everyone in the car lost its confidence of getting in time to the castle except me. I am always thinking in an optimistic way and always confident of succeeding in everything I do, so suddenly the traffic disappeared and we started quickly to advance towards Sinaia. We parked the car around 10 minutes to 4 pm and I remember I ran all the way up the hill (about 1 km) to get in time to the castle and I made it exactly before the last tickets were sold for that day. (Find more journeys on blog.worldlifetimejourneys.com) I was so happy to buy tickets for everyone else as they arrived 10-15 minutes later in time for the last tour of the day. When you will visit this castle you will know why I did this and why I'm talking like this. I think I would have been very disappointed for the last part of the trip if I wouldn't made it in time to Peles. I am sure that I will visit my friend every time the life gets me in his area. But let's stop for now with the story and I will tell you a bit about my old Peles.
---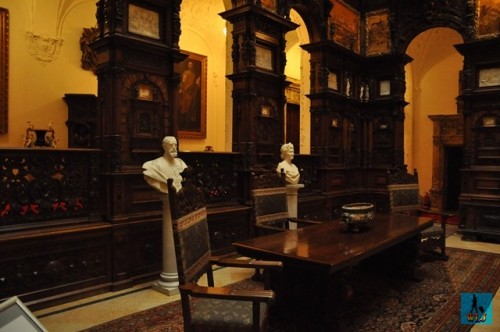 The Honor Hall of Peles Castle enriched with statues and decorations

---
About Sinaia and its importance and the influence of King Carol I:
Peles Castle is situated in one of the best bathing mountain resort from Romania, Sinaia which is also truly called the Carpathian Pearl. This beautiful resort hides a magnificent castle which many who visit it consider this to be one of the best in the world. Sinaia resort started to be famous together with the life of King Carol I of Romania (Hohenzollern family) who decided to built the castle here on a hill. It is important to mention that due to King Carol I, the small commune of Podul Neagului changed its name to Sinaia in 1874 and year by year it transformed in a nice small city with more and more houses to be built. By the end of the XIX century, the building of the first railway in the area facilitated the transport and developed the life and the city itself quite quickly. Today Sinaia has about 10.000 permanent inhabitants, but tourists visit it every month in the year enriching the tourist life of the small resort.
---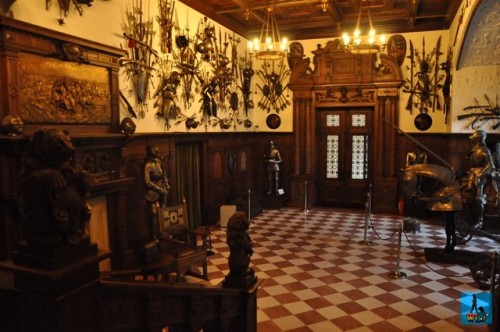 The Armory Hall of Peles Castle has more than 4000 pieces
---
About the building and the architects who built Peles Castle:
As about the castle, King Carol I (b. 1839 in Sigmaringen, Germany – d. 1914 in Sinaia, Romania) visited this area for the first time in 1866 and after 6 years, in 1872 he decided is the moment to buy this land near the area called Pietrele Arse (Burnt Rocks). The foundation stone was laid on the day of 22 in August 1873. During the entire period in which the castle was completely built (about 40 years), several architects followed their plans of the castle. The first architect was Wilhelm von Doderer, professor in Wien who was the main architect between 1872 and 1876 helped by German architect Johannes Schultz who in 1876 took over from Doderer becoming the main architect until 1883. Later on in 1890 until 1892 architect Lecomte du Noüy was busy with the works, but in 1896 until later in 1914, the main architect who completed the castle was the Czech Karel Liman who also designed and built the towers (main tower has 66 m in height). It is said that over 400 people worked to build Peles Castle.
---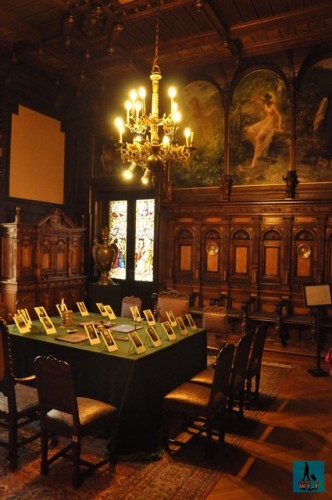 The beautiful Music Room is also a relaxation place

---
Architecture styles and what you can see on the way to Peles Castle:
Peles Castle the summer residence for King Carol I (the first king of Romania) is impressive and original, magnificent and unique from outside and mostly from inside because it is a combination of Neo-Renaissance, Gothic and Baroque styles with interior influences from Florentine, Moorish, Turkish, Imperial and French styles which together offer a splendid experience for any person who step on Peles Castle's doors. The view over the castle is awe inspiring and the surroundings are breathtaking. As you walk up from Sinaia center or from any of the parking lots, you will pass through a small forest on the way and on both sides of the path there are usually different artisans trying to sell their goods (food, drinks, artifacts, souvenirs and many more). You can see the wildlife that surrounds you and many birds and squirrels will accompany you to the castle. If you are lucky you can also see some deer.
---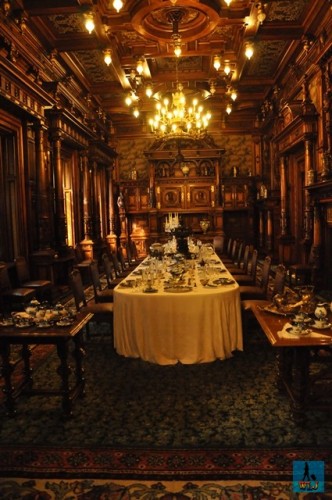 The splendid Dining Room of Peles Castle
---
The most important rooms and what you can see inside Peles Castle:
The interior of this palace is so different and beautiful from room to room. There are more than 170 rooms in total and 30 bathrooms. The most important rooms are: The Honor Hall decorated with wooden statues, panels from walnut wood and more decorative elements, the Royal Library that hides a hidden corridor in the back of one of the book shelves, the Armory Halls with over 4000 pieces of European and Oriental armors and guns, swords and more, the Music Hall built for Queen Elizabeth of Romania where musical evenings were held, the Florentine Hall also known as the big Saloon is impressive with its candelabras and decorated in Italian Neo-Renaissance style with golden linden tree wood. (Find more journeys on blog.worldlifetimejourneys.com) Other important rooms of the palace are the Moorish Hall that has a fountain from Carrara marble stone and decorated with Hispanic-Moorish elements, the Playhouse or Theater with 60 seats and a Royal Box, the Turkish Saloon with Ottoman decorations like rugs and silk textiles and was used as a smoking room, the Royal Bedroom that has a beautiful crystal candelabra, the Living Room, the Working Cabinet and probably the most important is the Imperial Apartment built specially for the visit of Emperor Franz Joseph I of Austria who came to celebrate 40 years of reign for King Carol I. But I don't want to tell you more about the rooms of Peles Castle because I want you to discover them yourself and to wonder to these beauties.
---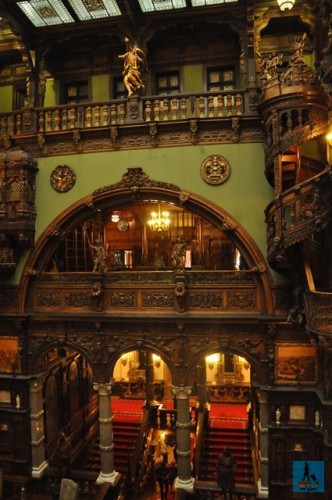 Overview of the Grand Staircase and Honor Hall of Peles Castle
---
On short about Pelisor Castle, about the other buildings around Peles Castle and our recommendation:
I must tell you now that every time I visited Peles Castle with my family or friends I also visited the nearby Pelisor Castle, smaller but also beautiful and interesting to visit where King Ferdinand and Queen Marie were living. But more about this we will tell you in a future article. Of course, there are various other buildings around Peles Castle that were built in the same time like Foisor Hunting Cottage, Guards Building, the Power-plant, the Stables and Sipot Villa which all were used by the Royal family and their servants. It is important also to know that Peles Castle was the first electrified castle in Europe due to its own Power-plant and the name of the castle comes from the small river that passes in this area. We think that everyone that visits this magnificent castle, regardless the age, sex, religion or interests will for sure fall in love with my old friend, because everything around it is so romantic, so natural, so original, but I will leave you to imagine, to dream, to wonder at this Carpathian Pearl. It definitely worth the visit and if you are in the area please pay a visit to Sinaia resort itself because it is so charming and you can find here various possibilities for accommodation, food and fun and if you come during winter you can also go skiing, sledging and enjoy other winter activities as well. There are so many to do in the area. Maybe in a future article we'll tell you more, but for now we really hope you enjoyed reading about this palace and don't forget to visit Peles Castle!
---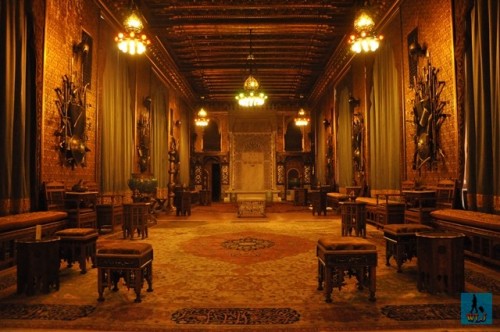 The Moorish Room of Peles Castle decorated with Oriental elements
---
Summary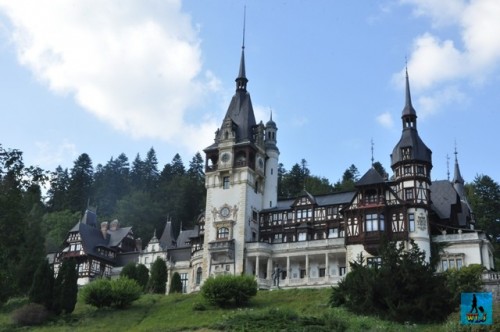 Article Name
Peles Castle is truly called the Carpathian Pearl, a unique palace in Sinaia
Description
Peles Castle a Romanian gem is one of the most beautiful castles in the world where King Carol I of Romania set his summer residence in Sinaia
Author
Publisher Name
Publisher Logo