Welcome to 
Oceania
Location:
Oceania is the world's smallest continent and is situated in the Pacific Ocean composed by dozens of thousands of islands disposed in many archipelagos. Only in west is the Indian Ocean but in the rest they are surrounded by the Pacific Ocean and by some seas like Philippines, Timor, Arafura, Coral or Tasmania Seas.
Area/Surface:
8.504.041 km²
Population:
36.893.370 people
The biggest cities:
Sydney, Melbourne, Brisbane, Perth, Auckland, Adelaide and others
Languages spoken:
English, French, Gilbertese, Chamorro, Fijian, Cook Islands Maori, Marshallese, Nauruan, Hindi, Palauan, Niuean, Samoan, Spanish, Tahitian, Tongan, Tuvaluan, Wallisian and many other dialects and languages
Time zone:
+8 hours to -6 hours Greenwich time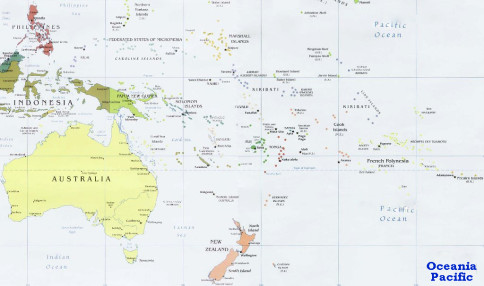 ---
Oceania or Pacific
Oceania regions and relief:
Oceania, this tourist paradise is the continent with the smallest land surface and is composed by four main regions which also include tens to thousands of other islands: Australasia, Melanesia, Micronesia and Polynesia. Most of the islands relief (over 20.000) has been formed by volcanic activity, because many of the islands have active volcanoes on their territory with many of them included as part of the Pacific Ring of Fire or formed from corals composing atolls and many islands are surrounded by the most beautiful coral reefs. Visit Oceania or Pacific and discover that the majority of these islands have an elevation of only several m, some of them passing several hundreds of m with white sandy beaches and turquoise waters. There are also some peaks that pass 3.000 – 4.000 m height.
Oceania climate, people, fauna and flora:
Oceania's general climate is tropical hot and wet with the alternation of two seasons, the dry one and the rainy one when monsoons and tropical cyclones are present, when the winds are powerful and the rainfall are high. The fauna and flora of these islands are rich in species and more important are endemic. People established here dozens of thousands of years ago (the aboriginals), but the colonizers arrived here only several centuries ago. On these islands are living thousands of tribes and ethnic groups with their own culture and language, some of them inheriting the ones of the colonizers. Most of them are involved in fishing, agriculture and tourism. (Find more journeys on blog.worldlifetimejourneys.com) The countries that compound Oceania and some territories of other states are: Australia, New Zealand, Papua New Guinea, Guam (U.S.A.), North Mariana (U.S.A.), Micronesia, Marshall Islands, Nauru, Solomon Islands, Vanuatu, New Caledonia (France), Kiribati, Palau, Tuvalu, Wallis and Futuna (France), Fiji, Samoa, Tonga, American Samoa  (U.S.A.), Niue (New Zealand), Cook Islands (New Zealand), French Polynesia (France) and Pitcairn Islands (Great Britain). Visit Oceania or Pacific!
---
Melanesia:
Fiji, New Caledonia, Papua New Guinea, Solomon Islands, Vanuatu.
Micronesia:
Guam, Kiribati, Marshall Islands, Micronesia, Nauru, Northern Mariana Islands, Palau.
Polynesia:
American Samoa, Cook Island, French Polynesia, Niue, Pitcairn Islands, Samoa, Tonga, Tuvalu, Wallis and Futuna.
Others: