Welcome to
North America
Location:
North America is the 3rd continent in the world as surface and is wholly situated in the Northern Hemisphere surrounded by water from three sides: Arctic Ocean to the North, Pacific Ocean to the West and Atlantic Ocean to the east.
Area/Surface:
24.700.000 km²
Population:
528.720.000 people
The biggest cities:
New York, Los Angeles, Chicago, Toronto, Montreal, Mexico City, Atlanta, Miami, Vancouver, San Francisco, Dallas, Houston, Boston
Languages spoken:
English, French and Spanish
Time zone:
-4 hours to -8 hours Greenwich time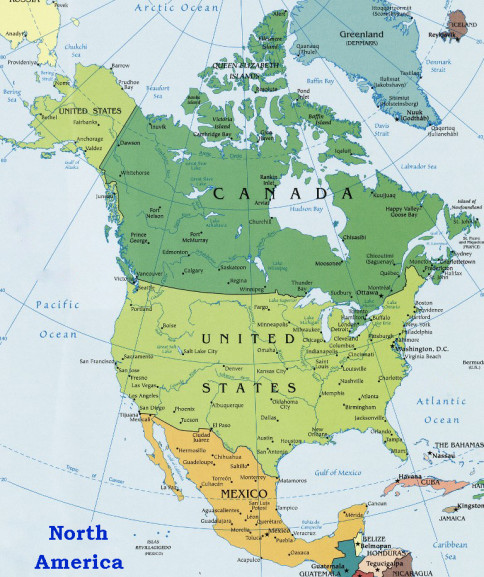 ---
North America
Relief and other aspects about North America:
North America is the 3rd continent as surface after Asia and Africa and the fourth as population after Asia, Africa and Europe. The northern polar ark is situated in the northern part of the continent and in the southern part of it, the territory is already part of Central America and later of South America. The relief is very complex and varied from plains to young mountains in the western part like the Rocky Mountains, which are some of the youngest mountain chains in the world.
Population, climate and name of North America:
The west part of the continent was always under the influence of the tectonic plates. The population density is very small, hardly touching 23 people per km², just because many territories from the north are uninhabited, the climate making the life there very tough. (Find more journeys on blog.worldlifetimejourneys.com) The majority of the population is concentrated in the biggest cities. United States of America is one of the most powerful economies in the world and not only in the North American continent. The territory is rich in minerals and fossil combustible. The continent got its name from the Italian explorer Amerigo Vespucci who is recognized as the first European explorer who said that Americas are not the Indies but a new Continent. Visit North America!
---
North America: