Welcome to
Neamt County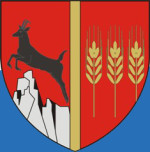 Location:
Neamt County is situated in Moldova region from Romania, in the north-east part of the country and its neighbors are the following counties: Suceava and Iasi in north, Vaslui in east, Bacau in south and Harghita in west.
Area/Surface:
5.896 km²
Population:
451.000 people
Capital (Residence):
Piatra Neamt City 76.000 people
Religion:
Orthodox
Cars:
NT
Calling code:
+4 0233 or 0333
Municipalities:
Piatra Neamţ, Roman
Cities:
Bicaz, Roznov, Târgu Neamţ
Main roads:
E85(DN2) Suceava-Roman-Bacău
DN12c Piatra Neamţ-Bicaz-Gheorgheni
DN15c Piatra Neamţ-Târgu Neamţ
DN15b Paşcani-Târgu Neamţ-Poiana Largului
DN15 Topliţa-Târgu Neamţ-Piatra Neamţ-Roznov-Bacău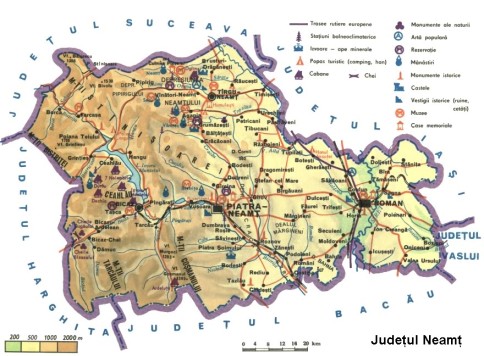 ---
Neamt County
Relief, climate, rivers and lakes from Neamt County:
Neamt County has a predominantly mountain and plateau relief with Hasmas, Ceahlau, Tarcaului, Stanisoarei and Gosman Mountains in west and south of the county, the center being dominated by the Moldavian Sub Carpathians and in the east part are Moldovei Plateau and Siretului Meadow. The highest altitude is in Ocolasu Mare (Great) peak of 1.907 meters high. Neamt's climate is temperate-continental which vary depending the elevation. The temperature increases from west to east  and the annual average is 9-10° C. Despite its  elevation, the rainfall is relatively low of 600-700 mm per year. The longest rivers from Neamt are Siret, Bistrita, Moldova, Cracau and Ozana Rivers. (Find more journeys on blog.worldlifetimejourneys.com) The main lake and one of the longest lakes from Romania is Izvorul Muntelui (Mountain's Spring) Lake.
Fauna and flora, tourist attractions and objectives from Neamt County:
Neamt County's fauna and flora are various and rich in species with deciduous forests (elm, ash, holm, beech, oak) mixed with those of conifers (spruce, fir, pin) in most parts of the county and the animals are specific to the mountain and plateau area. The most important tourist attractions and objectives from Neamt County are Ceahlau Mountains National Park, Bicazului Keys National Park, Izvorul Muntelui (Mountain's Spring) Lake, Neamtului Citadel, Petru Voda Monastery, Agapia, Neamt, Bistrita and Varatec Monasteries, Piatra Teiului Rock, Piatra Neamt City considered to be the most beautiful from the Romania, DragoS Voda Nature Reserve of bison, Ion Creanga Memorial House in Humulesti (one of the most important Romanian writers), Petrodava  Citadel and many others. Visit Neamt County!
---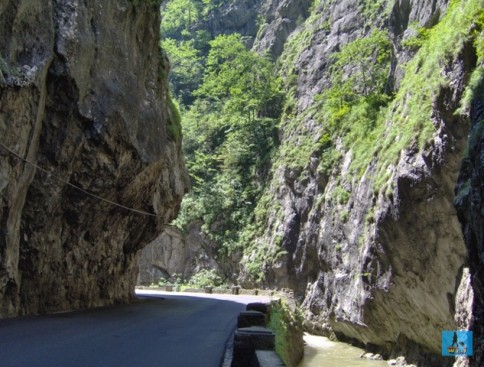 Bicazului Keys National Park, Neamt County
---

 Piatra Neamt City
Live weather in

 Bucharest

 Caras Severin County


 Timis County

 Suceava County

 Arad County


 Bihor County


 Salaj County

 Constanta County


 Tulcea County

 Maramures County


 Satu Mare County

 Bacau County


 Botosani County


 Galati County


 Iasi County


 Neamt County


 Vaslui County


 Vrancea County

 Arges County


 Braila County


 Buzau County


 Calarasi County


 Dambovita County


 Giurgiu County


 Ialomita County


 Ilfov County


 Prahova County


 Teleorman County

 Dolj County


 Gorj County


 Mehedinti County


 Olt County


 Valcea County

 Alba County


 Bistrita Nasaud County


 Brasov County


 Cluj County


 Covasna County


 Harghita County


 Hunedoara County


 Mures County


 Sibiu County

Summary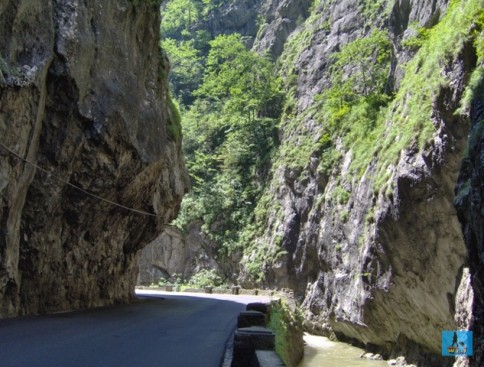 Article Name
In Neamt County you can find one of the largest lakes in Romania
Description
Neamt County is rich in tourist objectives from national parks to citadels and monasteries like Agapia or Neamt. Tourists can choose what they want to see
Author
Publisher Name
Publisher Logo