Welcome to Lake Balkhash, Kazakhstan
---
Location:
In the south-eastern part of Kazakhstan, Asia.
Area/Surface:
16.400 km²
Cities:
Largest city is Balkhash with around 66.000 inhabitants.
Average depth:
5.8 m
Maximum depth:
26 m
Elevation:
340 m above sea level
Length:
605 km
Width:
Between 10 and 74 km.
When to go:
Due to the fact that during winter between November and March the lake is frozen, May to October will be the best time to go, but we recommend to go in the summer months when the weather is perfect for exploring the area.
How to get here:
By car:
The best way to come here by car is from north either from Astana the capital or from Karagandy. You can also come from south from Almaty but the distance is bigger.
Coming from the north (Astana or Karagandy) you will drive on the M-36 that gets you to Balkhash city. Then the M-36 continues on the south-west side of the lake then to Almaty. From Astana you have around 600 km (7-8 h drive) and from Karagandy around 380 km (4 h and a half).
Coming from the south the quickest way to get to Balkhash city is by driving on the same M-36 (635 km around 8 h). But in just 4-5 hours you can get on the southern shore of Lake Balkhash.
By train:
To get to Balkhash City from Astana by train you will go more than 20 hours.
By bus:
To get to Balkhash City from Astana by bus you will go around 9 hours. Bus station is called Saparzhai.
By plane:
You can get to either Astana or Karaganda Internatinal Airports from many places in the world. But you can only get to Balkhash City from Karaganda by an internal flight that goes 3 times a week. The company that operates this flight is Zhezkazgan Air.
---
---
Lake Balkhash, Kazakhstan
History, name and waters that feed Lake Balkhash:
Lake Balkhash was know to the local people even since the year 103 BC. The lake played an important role in the daily life of the Turks, Mongols and Chinese people. During the Chinese dynasty of  Qing, between the seventh and twentieth centuries the lake represented the north-western part of the Chinese empire. For more than 100 years until the Soviet Union was split, the lake was on Russia's territory and only since 1991 is part of Kazakhstan. The name is coming from the local word "Balkas" that means "tussocks from a swamp". There are many rivers that feed this lake and the most important are: Ili or Ile River (main) and Aksu, Karatal and Lepsa Rivers.
Relief and climate from Lake Balkhash:
Lake Balkhash is divided in two different parts by the Saryesik Peninsula situated almost in the middle part of the lake. The interesting part around the lake is that is composed by two totally different parts. You must know that the eastern part is filled with saltwater and is much deeper. The western part is filled with fresh water mainly because the volume of the water coming from Ile River. (Find more journeys on blog.worldlifetimejourneys.com) The two distinct parts are separated by a 3.5 km long strait which is 6 m deep. On the north side of the lake the relief is rocky and with higher altitudes while in the south part you can find shallower water and a sandy shore. The lake also has 43 islands and some small hills around.
As about the climate you must know that the winters are harsh with low temperatures dropping below -20° C. The summers can be hot with frequent temperatures over 30° C which makes it the perfect season for holidays. During the months of June, July, August and even September, the water temperature is between 20 and 25° C which means you can easy swim and relax in Lake Balkhash waters. The high temperatures in the summer make this lake a favorite holiday destination for Kazakhs. Also tourists around the world come here in an unknown part of the world, a new country and a new adventure.
---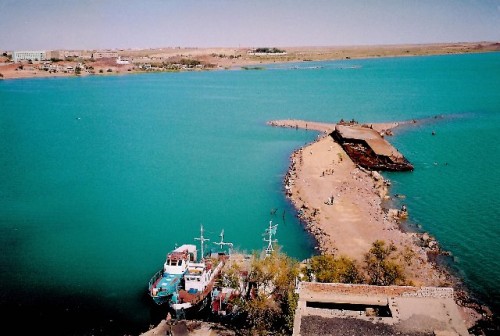 The pier close to Balkhash city on the northern shore of Lake Balkhash
---
Fauna, flora and the local activities around Lake Balkhash:
Fauna and flora in the Lake Balkhash region will amaze you because here you can find over 340 species of animals. Among these are foxes, wolves, wild boars, muskrats or hares. It is known that here lived also the Caspian tiger which probably now is extinct. You can see also over 120 species of birds among are golden eagles, pheasants, cormorants, great egrets or pelicans. Among the 20 species of fish you can find here catfish, breams, perches or the endemic Sazan or Pike fish. Many of the species found here are endangered.
Flora at Lake Balkhash is also important. There are riparian forests, willow, cane, reeds everywhere, algae, poplar, rushes and many other species of water plants. If you come here, you can see that locals are involved mainly in fishing, navigation, transport, economy and energy projects, many working in power-plants.
Tourism and what you can see and do at Lake Balkhash:
If you decide to come for a holiday at Lake Balkhash we recommend you to combine this place with a visit to Karagandy and the capital Astana. In total you will probably need a minim of one week spent in Kazakhstan from which we recommend 2-3 days in Astana, one in Karagandy and another 3 or 4 at the lake. Unfortunately tourism is underdeveloped here despite the beautiful area and the activities you can do here. It is just because tourism here is not the main thing and is not well promoted. But around the city of Balkhash at the north side of the lake, tourists will find good hotels and resorts to spend their holidays.
There are plenty of activities which you can choose from. Here is a paradise for fishing enthusiasts or for photography lovers, who spend time taking pictures of the endangered species. You can also get fantastic photos of the landscape or go about 70 km north to the region of Bektau-Ata mountains. (Find more journeys on blog.worldlifetimejourneys.com) This superb mountain range consisting of canyons, rocks and lakes will offer you great opportunities for photos and adventure in the wild. There are also activities for sail lovers because sailing and yachting is popular at Lake Balkhash. Also the lake becomes more and more popular among those who love swimming or diving, making it a perfect summer destination.
---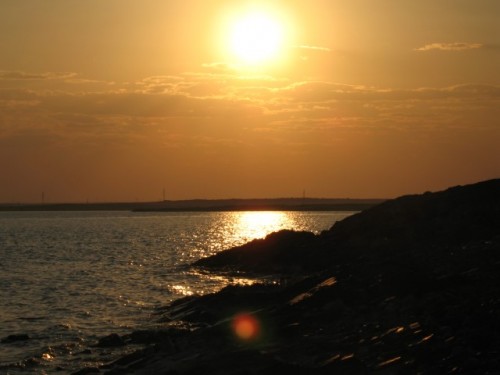 Beautiful sunset over Lake Balkhash
---
As about the tourist objectives and attractions in the area of the lake or not far away, you can find many of them. There are 88 archaeological sites not far away, also caves, mounds, old settlements and others. In fact, tourists love to come here especially for a relaxing and quiet holiday far away from the noise and stress of a big city. Holiday hotels and resorts can be found in many places around the lake. Please find more information here. Visit Lake Balkhash, Kazakhstan!
---
Silent and beautiful mountains of Bektau-Ata nor far from Lake Balkhash
---
Summary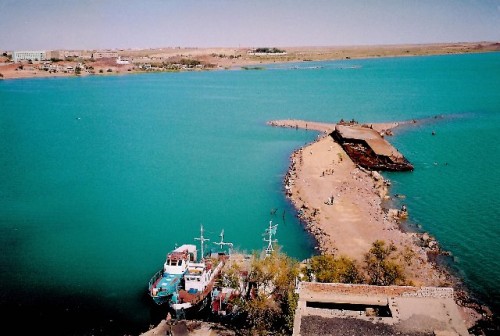 Article Name
Lake Balkhash is the third largest lake in Kazakhstan situated in the south-eastern part
Description
Lake Balkhash is the 12th largest lake in the world. It is one of the world's strangest lakes because half is saltwater and half freshwater
Author
Publisher Name
Publisher Logo