Welcome to Danube Delta
---
Location:
On Tulcea County's territory in the south-east part of Romania.
Address:
Reserve Administration, Tulcea City, Portului Street, No. 34A
Area/Surface:
2540 km² on Romania's territory
(total 3446 km²)
Cities:
Tulcea, county's capital is the main starting point to explore Danube Delta. Another smaller city is Murighiol (commune).
Foundation year:
1991
Telephone:
+40 240 518924
Website:
E-mail:
When to go:
May – September, to have the best period when fauna and flora are rich in species.
How to get here:
By car:
You can get by car only till Tulcea or Murighiol at your preference. To get to Tulcea see the article Tulcea City (main roads are E87 and DN22A) and for Murighiol you can go on the National Road DN222C through Beştepe and Mahmudia or from south through Enisala and Valea Nucarilor.
By train:
To get here by train or plane, Tulcea City is the best option. You will find details on Tulcea City page.
By means of transport:
The main transportation form in Danube Delta is a boat or ship, where most of the locals have one at home.
---
---
Danube Delta Biosphere Reserve
Interesting aspects about Danube Delta and when is the best time to go:
It's fall of 2014, a warm September when finally in a group of 5 people we arrived in Danube Delta, this fauna and flora paradise from Romania. We all dreamed for ages to come here and who doesn't want to? Unfortunately we didn't get the chance till now, because every time some other things came up and made us to postpone this trip. Although, it is said by the locals that the best time to go is between May and the first part of August, we chose to go in the next following month and we didn't regret at all.
---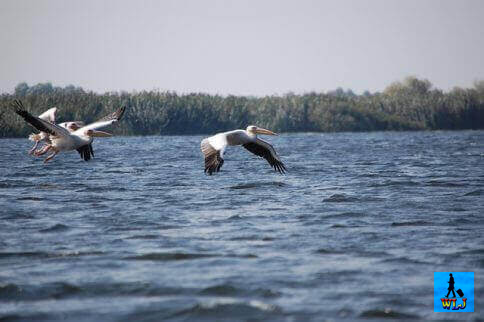 Pelicans flying above Uzlina Lake in Danube Delta
---
Indeed, Danube Delta is abundant in wildlife beginning April-May when most of the birds of passage are coming back to spent their summer here. Also, all trees are flowering and life is shining for 3-4 months. Neither September is not a bad month, but then because fall and then winter are approaching, the birds start to go back in South Europe or Africa where they will spend the winter.
---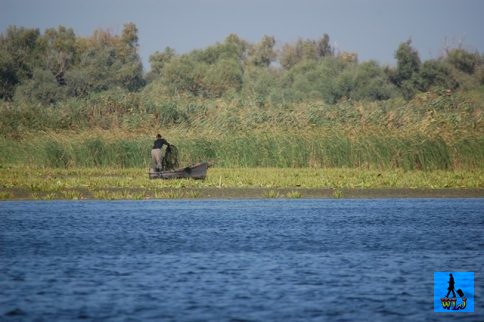 Fishing in Danube Delta
---
In Danube Delta we didn't stay more than a day because we were over scheduled, but even like this we had a dream experience. (Find more journeys on blog.worldlifetimejourneys.com) For nature, fauna and flora lovers, for those who want to see a wonderful show of nature in a charming place, Danube Delta represents a saint place, a must visit place at least once in a lifetime. We chose to stay in Murighiol because we wanted to be far from Tulcea City where most of tourists were and on the other hand we wanted to be closer to Danube Delta. In fact, here's where delta starts. But this territory is huge enough and is the 2nd in surface from Europe after Volga's Delta.
---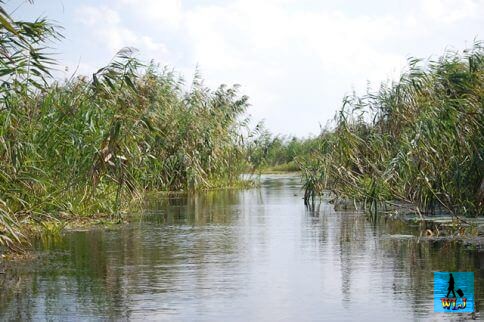 On the water between Uzlina and Isac Lakes
---
Relief of Danube Delta:
Danube Delta Biosphere Reserve is the youngest relief form from Romania and among the youngest in Europe formed only 10.000 years ago. Because of this, its medium height of 2-3 m show as well its fragility. However, in delta the height varies a lot depending the place where you are. If the sandy hills from Letea and Caraorman have heights of 8-12 m in some areas, the areas around lakes barely pass 1-2 m above sea level. Danube Delta was formed by the 2nd river as length in Europe, the Danube at the end of 2.860 km from Black Forest Mountains in Germany till the Black Sea where it inflows. On this distance it got many other rivers into it and millions tons of alluvium which finally deposited gradually here in this beautiful place we call today Danube Delta.
---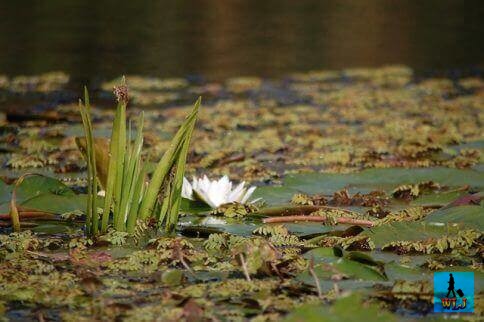 Danube Delta's flora is rich and spectacular
---
Fauna and flora from Danube Delta:
Here is a great variety of fauna and flora and is a good place for many species to grow. Among flora species the most common are the reed, reed mace, sedge species present almost everywhere around the lakes, but also species of oak, poplar, elm and ash on Letea and Caraorman sandy hills and also many other water loving plants. Danube Delta's forests occupy more than 5% of its surface and the aquatic vegetation more than 2-3%. Among fauna species, the number 1 attraction, here are over 330 species of birds, more than 130 species of freshwater fish and also many mammals who live here permanently or temporarily during the warm period. Among these birds we mention entire colonies of pelicans, cormorants, ducks, herons fallow, white-tailed eagles, white storks, red breasted goose, swans and many others.
---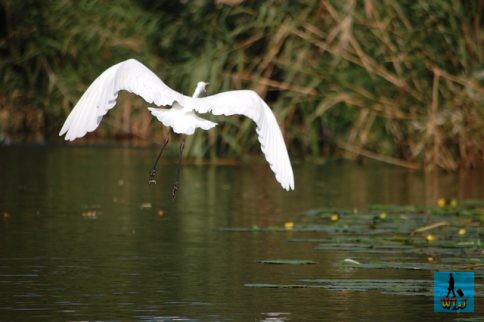 A great Egret (Ardea Alba) flying when we're approaching
---
It's important to know that here in Danube Delta are living more than 60% of the world's pygmy cormorants, the most part of the common pelicans and Dalmatian pelicans from Europe and more than 50% of the red breasted goose from the world. Among the most important species of fish present here are the luce, catfish, zander, crucian, carp, perch and many others. Fishing is the main activity of the 15.000 people who live here, followed by tourism which is better and better developed. If the nature show is offered by birds, the mammals are shy and you can rarely see them. Among the mammals present here in Danube Delta are otters, minks, muskrats, wild boars, ermines, foxes, wild cats and others. Also here on Letea and Caraorman sandy hills are living some groups of wild horses, but these are rarer.
---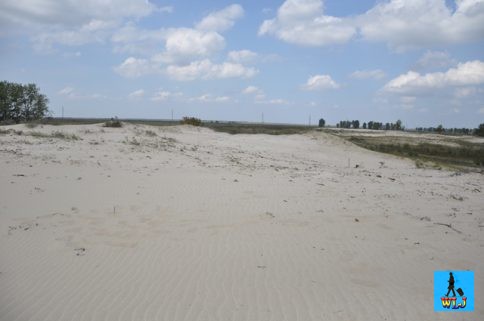 Caraorman sandy hills
---
Channels and lakes of Danube Delta:
Danube Delta is composed by three main channels of Danube, Chilia arm or channel in north on the border with Ukraine, Sulina arm or channel in the middle which is also the largest and Saint George arm or channel in south which together with Sulina are the most popular among tourists and fishermen. Sulina channel has a length of 71 km and Saint George channel is 112 km in length till the Black Sea. However, these are just a little part from this delta because here is an impressive labyrinth of channels connected in between and if you go by yourself you can easily get lost. If you come to visit Danube Delta the best is to go with a local who knows the places or you will ruin your journey. There are more than 470 lakes of different sizes in delta and the most important are Razim, Sinoe, Babadag, Uzlina, Gorgova, Lumina, Dranov, Furtuna, Golovita, Isac, Isaccel, Puiu, Rosu, Babina, Matita, Merhei and many others.
---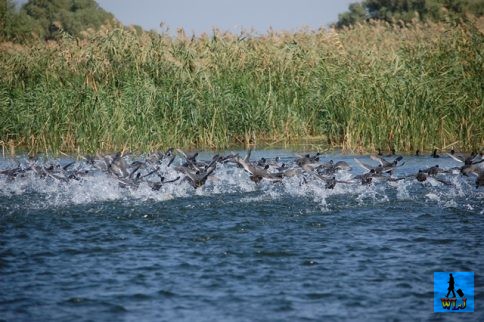 Tens of ducks start to fly when a boat is coming
---
Activities, what we recommend and what to do in Danube Delta:
The only thing we regret is that we didn't have enough time to spend here. Probably more time was spent planning this journey than the time spent there. To really feel and live this natural paradise, we recommend to stay at least 3 days in Danube Delta. Maybe some of you will think that is too much and you'll get bored, but there are many tourists who stay here even 1-2 weeks without any problem. If you are in search of silence, relaxation or you just want to have a few days to forget about work and everything around you, delta will offer many places of this kind. (Find more journeys on blog.worldlifetimejourneys.com) You can find places to sleep several nights in a tent, far away from civilization where even your mobile phone signal won't work at all.
---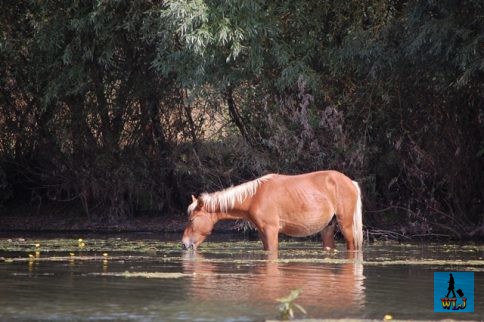 A wild horse drinking water at the side of Saint George channel
---
On the other hand you can choose to spend a holiday on one of the floating hotels with good offers for all pockets, you can spend few days on the beach at the contact between Danube and Black Sea, you can swim in the sea, rent fishing equipment and stay a couple of hours fishing, or you can enjoy a trip in one of the boats to observe fauna and flora. Also you can enjoy an extreme drive with a 4×4 car over the Letea or Caraorman sandy hills, you can hike, visit tourist objectives from Tulcea City and delta's surroundings, you can have fun or make some sport at one of the numerous hotels or holiday houses which offer you this possibility or simply you can stay on a lake shore and admire the landscapes and nature's show.
---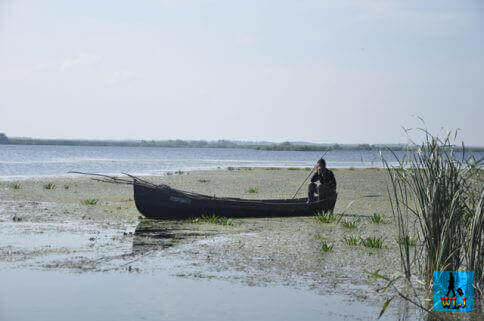 Fisherman in Danube Delta
---
So, as you can realize, there are so many things you can do in delta, but be careful not to destroy the natural habitat of more than 3500 species of animals and more than 1700 species of plants. Regardless what you choose to do, don't forget to bring your camera and happiness. You will definitely need them. Among all the activities from here, we chose to go for 4-5 hours by boat on a few lakes and also the great sensation a 4×4 car can offer you on the sandy hills of Caraorman. Danube Delta is among the fewest places in Europe and in the world where if you know how to plan it and choose the right moment and also with a bit of luck you will have a lifetime journey, an unforgettable experience and truly this paradise was included in 1990 in the Cultural Patrimony and UNESCO World Natural Heritage, a place where many of the species present here are protected by law. Visit Danube Delta!
---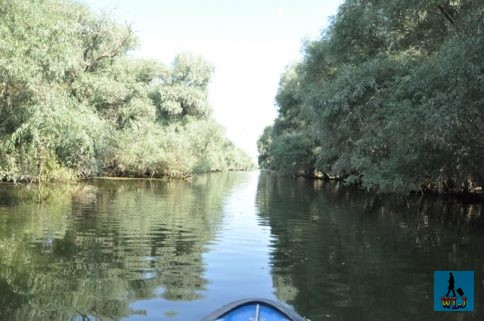 Navigating through the channels labyrinth from Danube Delta
---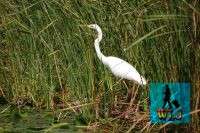 Birds from Danube Delta
Summary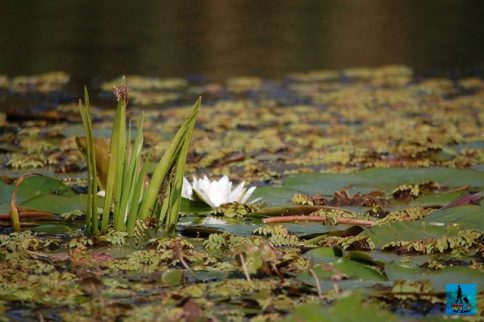 Article Name
Danube Delta Biosphere Reserve is Romania's no. 1 attraction
Description
Danube Delta Biosphere Reserve is truly a world's paradise and a lifetime journey because the life here is very rich in flora and fauna.
Author
Publisher Name
Publisher Logo