Welcome to
Cluj County
Location:
Cluj County is situated in Transylvania region from Romania, in the central-west part of the country and its neighbors are the following counties: Bihor in west, Sălaj and Maramureş in north, Bistriţa-Năsăud and Mureş in east and Alba in south.
Area/Surface:
6.674 km²
Population:
659.000 people
Capital (Residence):
Cluj Napoca City 308.000 people
Religion:
Orthodox
Cars:
CJ
Calling code:
+4 0264 or 0364
Municipalities:
Cluj-Napoca, Câmpia Turzii, Dej, Gherla, Turda
Cities:
Huedin
Main roads:
A3 Gilău-Câmpia Turzii
E60(DN1) Oradea-Huedin-Cluj Napoca-Turda-Câmpia Turzii-Târgu Mureş
E576(DN1c) Cluj Napoca-Gherla-Dej
E58(DN1c) Baia Mare-Dej
E81(DN1f) Zalău-Cluj Napoca-Alba Iulia
DN1g Huedin-Jibou
DN16 Cluj Napoca-Sărmaş-Reghin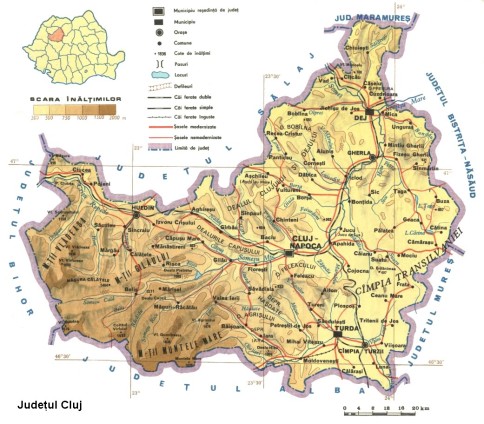 ---
Cluj County
Relief, climate, rivers and lakes of Cluj County:
Cluj County has a diverse relief with the Apuseni Mountains (Vladeasa, Gilau, Muntele Mare (High Mount) and Trascau Mountains) covering the central-west and south parts of the county and the other part is covered by the Somesan Plateau and the Transylvania Plain (Transylvania Plateau). The maximum altitude is in Vladeasa peak of 1.836 m height. Cluj County's climate is temperate-continental of transition with some influences coming from the Atlantic Ocean. Despite the high elevation, summers might be warm and winters milder, due to the warm air coming from the west. The annual average of the temperature is 8-10° C and the rainfall is between 600 and 1.000 mm per year. The main rivers are Somesul Mic (Little), Aries and Crisul Repede (Fast) Rivers with their basins and tributaries and the largest and most important lakes are Dragan, Gilau, Tarnita and Fantanele Lakes as reservoir lakes.
Fauna, flora and tourist attractions and objectives from Cluj County:
Regarding the flora, as in many other areas of the country, the deciduous and conifer forests are mixed and the fauna is specific to the mountain and plateau areas. Unfortunately you can rarely see brown bears and wolves, but there are numerous species of animals like wild boars, foxes, harts, deer and many others. (Find more journeys on blog.worldlifetimejourneys.com) The most important tourist attractions from Cluj County are Cluj-Napoca City with its museums, botanical garden, historic center, Lady Mary's Assumption Cathedral and the Saint Mihai (Michael) Church, Apuseni Mountains National Park, Bologa Citadel, Banffy Castle, Rachitele Waterfall, Draganului Valley, Nicula Monastery, Belis-Fântânele area, Turzii Keys Natural Reservation, Turda Salt Mine and many others. Visit Cluj County!
---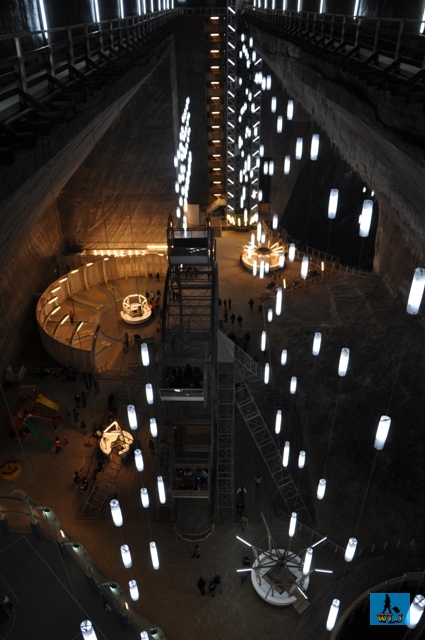 The main hall of the new salt mine from Turda, Cluj County
---

 Cluj Napoca City
Live weather in

 Bucharest

 Caras Severin County


 Timis County

 Suceava County

 Arad County


 Bihor County


 Salaj County

 Constanta County


 Tulcea County

 Maramures County


 Satu Mare County

 Bacau County


 Botosani County


 Galati County


 Iasi County


 Neamt County


 Vaslui County


 Vrancea County

 Arges County


 Braila County


 Buzau County


 Calarasi County


 Dambovita County


 Giurgiu County


 Ialomita County


 Ilfov County


 Prahova County


 Teleorman County

 Dolj County


 Gorj County


 Mehedinti County


 Olt County


 Valcea County

 Alba County


 Bistrita Nasaud County


 Brasov County


 Cluj County


 Covasna County


 Harghita County


 Hunedoara County


 Mures County


 Sibiu County

Summary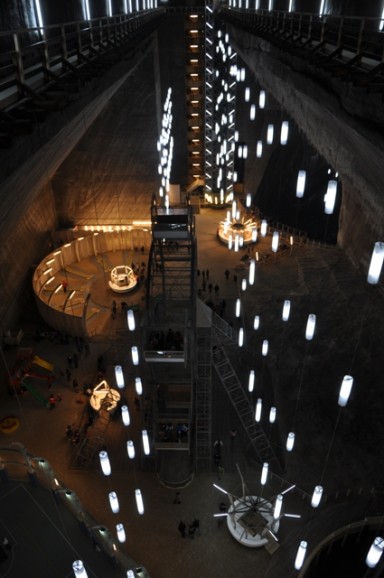 Article Name
In Cluj County you can visit the new salt mine or Cluj Napoca
Description
Visit Cluj County with places like Cluj Napoca City, the salt mine from Turda, Turzii Keys Natural Reservation or Apuseni Mountains National Park and more
Author
Publisher Name
Publisher Logo