Welcome to
Central America
Location:
Central America is situated wholly in the northern hemisphere having the Pacific Ocean to the west and the Atlantic Ocean and Caribbean Sea to the east.
Area/Surface:
523.000 km²
Population:
42.000.000 people
The biggest cities:
Guatemala City, Belmopan, Tegucigalpa, Managua, San Salvador, San Jose and Panama City
Languages spoken:
English, Spanish, Garifuna, Kriol, Maya languages and many others
Time zone:
-5 hours to -6 hours Greenwich time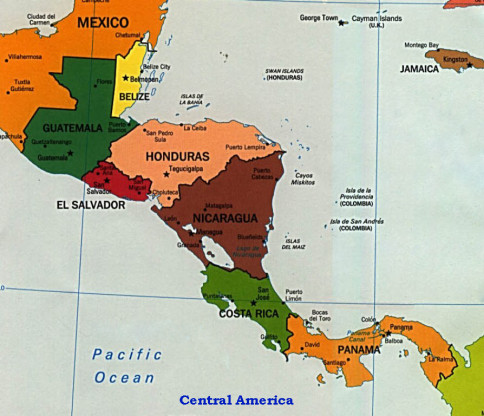 ---
Central America
Countries, fauna, flora, population and agriculture of Central America:
This narrow land territory named isthmus makes the connection between North America and South America and is composed by the following countries: Guatemala, Belize, El Salvador, Honduras, Nicaragua, Costa Rica and Panama. The fauna and flora are very rich here, because of the tropical forests which cover almost half of the surface. The people take their drinking water from the rain and they also use it to produce electricity. Central American countries have a rural population that lives in farms and have as the main activity, the agriculture. The most important cultures are the ones of coffee, cotton, sugar cane, banana, corn and bean, but they also grow cattle and other animals. (Find more journeys on blog.worldlifetimejourneys.com) The first Central American inhabitants were the Mayans, Aztecs, Olmec and Toltec people whose vestiges can be visited even today. Visit Central America!
---
Central America:
Belize, Costa Rica, El Salvador, Guatemala, Honduras, Nicaragua, Panama