Welcome to Caribbean
Location:
This area it's a reunion of many islands from different countries that compose the Caribbean region. These islands are situated in the central part of America and are bordered by the Atlantic Ocean in east and by the Caribbean Sea in west.
Area/Surface:
240.000 km²
Population:
39.170.000 people
The biggest cities:
Havana, Kingston, Port au Prince, Santo Domingo, San Juan
Languages spoken:
English, French, Spanish, Dutch and others
Time zone:
-4 hours to -5 hours Greenwich time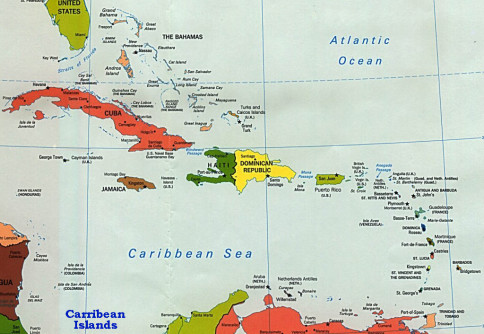 ---
Caribbean
Countries, climate and name of Caribbean:
This territory are the islands alignment between South and North America over 3.000 km long composed by the following countries: Anguilla, Antigua & Barbuda, Aruba, Bahamas, Barbados, Bermuda, British Virgin Islands, Cayman Islands, Cuba, Dominica, Dominican Republic, Grenada, Jamaica, Haiti, Puerto Rico, Saint Kitts & Nevis, Saint Lucia, Saint Vincent & Grenadine, Trinidad & Tobago, Turks & Caicos Islands & U.S. Virgin Islands. The climate is tropical and the wet season brings frequently hurricanes and tropical storms in the region. The name of this insular continent came from the first inhabitants, the Carib or Caribbeans. (Find more journeys on blog.worldlifetimejourneys.com) Over the years, the islands were under Spanish, French, British or Dutch supremacy. Visit Caribbean!
---
Greater Antilles:
Cayman Islands, Cuba, Dominican Republic, Haiti, Jamaica, Puerto Rico.
Lesser Antilles:
Anguilla, Antigua and Barbuda, Aruba, Barbados, British Virgin Islands, Dominica, Grenada, Saint Kitts and Nevis, Saint Lucia, Saint Vincent and the Grenadines, Trinidad & Tobago, US Virgin Islands.
Others: