Welcome to Bucegi Natural Park
---
Location:
On Dambovita, Prahova and Brasov Counties territory in Bucegi Mountains from Southern Carpathians in Romania.
Address:
Park administration, Moroeni Commune, Principală (Main) Street., Nr. 71, Dambovita County, Romania
Area/Surface:
326.63 km²
Cities:
The biggest cities closer to Bucegi Natural Park are: Targoviste (Dambovita), Ploiesti (Prahova) and Brasov (Brasov). There are smaller cities from where you can start exploring this park: Busteni, Sinaia or Predeal situated on Prahova Valley.
Foundation year:
A protected natural area was nominated since 1943, but Bucegi Natural Park was founded in 1990.
Telephone:
+40 372 758 550
Website:
E-mail:
When to go:
May – early October. But we recommend to go in summer months when the weather is perfect for hiking and exploring the area.
How to get here:
By car:
There are many routes which you can choose to get here and to help you choose one depends on the type of your car, your allocated time or how many kilometres you want to walk. It doesn't matter which way you choose to come here by car. You must be ready to walk (starting from few km up to hundreds of km in several days). The closest cities or villages where you can leave your car are: Sinaia, Busteni, Moroeni, Azuga, Predeal, Moeciu, Bran, Rucar, Rasnov and many more. It all depends where do you want to start your walking trip. In total there are 14 access ways in  Bucegi Natural Park.
The roads surrounding the park are: the National Road DN71 in the south-east part coming from Targoviste City. The National Road DN1 in the east where is Prahova Valley and where are the most accessible ways. The National Road DN72A in the south-west part coming from Targoviste City. The European Road E574 from the north and west parts coming from Brasov City.
We recommend if you to come by a 4×4 car because you cannot get inside the natural park without it.
By means of transport:
You can get in the cities on Prahova Valley (Sinaia, Busteni, Azuga, Predeal) from any point of the country. Please check your route and plan ahead. For coming by train please go on www.cfrcalatori.ro or www.infofer.ro. For coming by bus please go on www.autogari.ro.
By cable car:
You can get in Bucegi Natural Park by two cable cars. From Sinaia you can get a cable car towards Cota 2000 and one from Busteni towards Babele-Sphinx formations. The third cable car will get you from Babele-Sphinx plateau towards Ialomitei Cave.
---
---
Bucegi Natural Park
Location, importance and description of Bucegi Natural Park:
Bucegi Natural Park is one of the 32 National and Natural parks from Romania and starting 1990 covers an area protected by law. It is situated on Dambovita, Prahova and Brasov territories, in the central-south part of Romania. This is one of the most beautiful and important parks from Romania, covers 326.63 km² and is highly protected due to its rare and rich in diversity flora and fauna. More than 1 million national and international scientists and tourists are coming every year to visit this park. Since 1935 it covers an area between 1000 and 2505 m height which is Peak Omu. Bucegi Natural Park is also important due to the splendid natural formations that you can find here. The park comprises several reservations, rock formations, caves, lakes, waterfalls, rivers, forests and more natural objectives.
---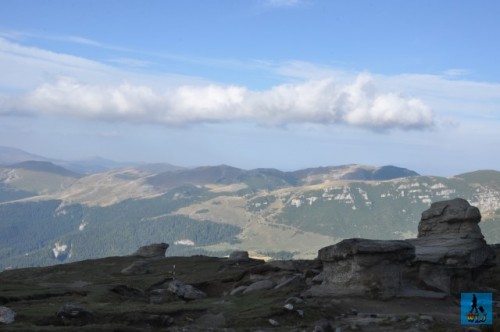 Bucegi Natural Park is waiting for your visit
---
Fauna and flora from Bucegi Natural Park:
Bucegi Natural Park is also part of the protected areas Natura 2000. Regarding its fauna and flora it is important for you to know that many rare species are found here. Among more than 3500 species of fauna present here, the most important you can see are the following. You can see the rare brown bear, the lynx and the wolf which are most active during the night. (Find more journeys on blog.worldlifetimejourneys.com) You can spot the rare mountain rooster or the black wild goat. But more common are the bats, the deer, some species of frogs or the Carpathian Triton. But of course there are so many other animals just because the park is rich in species.
On the other hand, flora is even more present in Bucegi Natural Park than the fauna. Flora is so varied here with as well over 3500 species because of the diversity of relief forms ranging in elevation between 1000 and reaching the maximum at 2505 m height. You can see among the most important, species as the Edelweiss or Leontopodium Alpinum. Other species are Rhododendron, the White Ivy, Gentiana Lutea, Nigritella Nigra, Junipers, Pinus Cembra, the Yew or the Larch. At lower altitude, the hardwood (deciduous) forests are present, while at higher altitude are endless coniferous forests. You can't go away from here without falling in love with the forests and landscapes you see.
---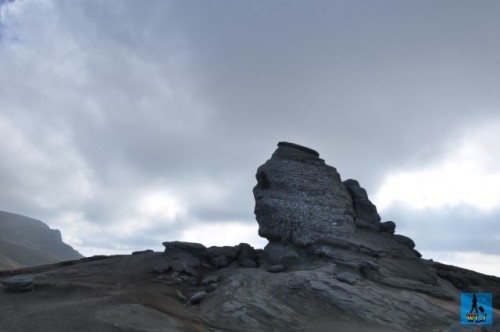 Unique "Sphinx" rock formation from Bucegi Natural Park, named after Sphinx in Egypt
---
Tourism and what can you do in Bucegi Natural Park:
You don't need to be a mountain lover to come here. Coming here and just enjoying the splendid views over Bucegi Mountains can change your vision. Tourism improved a lot in this area during the last 15-20 years. Today, Bucegi Natural Park attracts more than one million tourists every year. There are plenty of activities that you can do in this magnificent park and the most important activity is to go hiking.
Besides exploring the area on foot on one of the marked trails (alone or with guide), you can relax and breath the fresh mountain air, you can practice your climbing skills on more than 280 routes, you can practice Speleology Tourism for those passionate by caves or you can go and practice the winter sports in one of the excellent winter resorts from Prahova Valley. Not to forget to mention is that you can also go with a mountain bike and explore the park, you can watch the fauna and flora or simply you can record some nice movies or take plenty of photos to show your family and friends.
---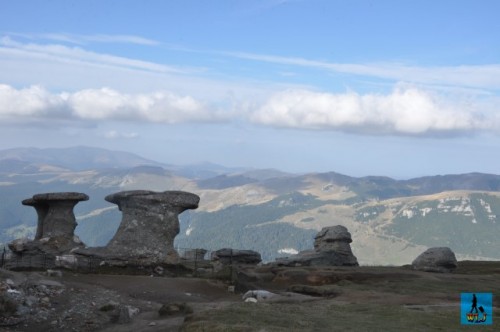 Beautiful landscapes and "Babele" rock formation are found in Bucegi Natural Park
---
What can you see in Bucegi Natural Park:
Whatever you can see in Bucegi Natural Park you will not forget. There are so many natural and human made tourist objectives and attractions that you can't imagine. As about the natural ones we mention the unique rock formations known as "Babele" (mushroom aspect) and "the Sphinx". Then you can see canyons, gorges or keys like Zanoagei, Tatarului, Horoabei, Orzei, Ghimbarului, Rateiului or Ursilor. There are also two important caves to explore: Ialomitei and Ratei. The first one gives the name for the splendid Ialomitei Waterfall that you can enjoy together with many other smaller waterfalls including Urlatoarea Waterfall. Also, as you walk along the trails from Bucegi Natural Park you can enjoy other rock formations. Moara Dracilor (Devils Mill), Coltii Morarului (Miller's Fangs), Mecetul Turcesc, Turnul Seciului or Baba Mare are just few of them.
As about the human made tourist objectives, you can walk up the highest peak in Bucegi Mountains which is Omu Peak at 2.505 m height. Not far from here, on Caraiman Peak you can see the Heroes Cross, built in the memory of the soldiers died in the First World War while Ialomitei Cave hides a monastery inside which you can visit together with the cave. Around the park you can visit Dracula's castle, Bran or the architectural gems Peles Castle and Pelisor Castle from Sinaia. In Sinaia you can also see the Memorial House of George Enescu, an important Romanian composer, pianist and violinist. Few km away, in Busteni you can visit Kantacuzino Castle and the Memorial House of Cezar Petrescu a Romanian novelist. In the north side of Bucegi Natural Park you can see beautiful Brasov City and Rasnov Citadel.
---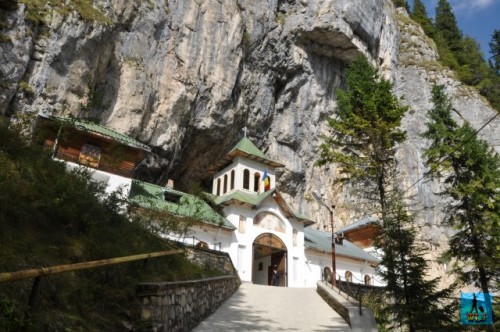 Ialomitei Monastery is built at the entrance in Ialomitei cave and it worth the visit
---
Hiking trails and natural reservations from Bucegi Natural Park:
The most important activity in Bucegi Natural Park is to go hiking. There are 39 approved and marked trails which you can choose from and they all have different degrees of difficulty. The shortest one takes about 45 minutes to one hour while the longest one lasts for a full day. Most of the trails will take you in different places within the park area and last between 1 hour and 5-6 hours. If you choose to stay here, you have plenty of accommodation options from camping to good comfort hotels and cottages. So nothing to worry about when visiting this amazing mountain park. More about the hiking trails here. (only in Romanian)
Now let me tell you a bit about the natural reservations within Bucegi Natural Park. You can see Pestera Reservation which includes Ialomitei cave and monastery and also Ursilor and Pesterii Keys and Horoabei Valley. (Find more journeys on blog.worldlifetimejourneys.com) Then, Babele Reservation with an easy access via the cable car from Busteni, will fascinate you for sure with its "Babele" and "the Sphinx" rock formations. Plaiul Hotilor Reservation (paleontological area), Omu Peak Botanical Reservation (protected area for rich fauna and flora) and Zanoaga Reservation are also important. Other natural reservations are Valea (Valley) Horoabei-Cocora, Coltii lui Barbes Mountains, Rateiului Cave or the Steep Bucsoiu-Malaiesti-Gaura.
To fully enjoy this park, we recommend you to come and stay here for minimum 4-5 days. This can be enough time to combine the natural beauty with the architectural attractions. It doesn't matter when you choose to come here. It will be for sure a lifetime journey that you will never forget. Visit Bucegi Natural Park!
---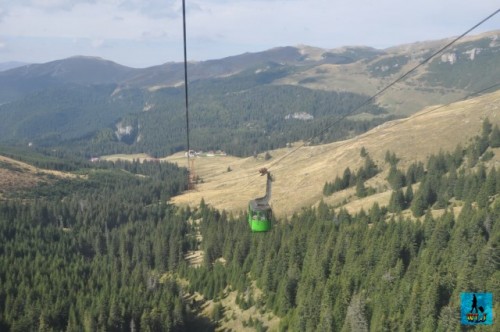 The easiest access to get in Bucegi Natural Park is by cable car
---
Summary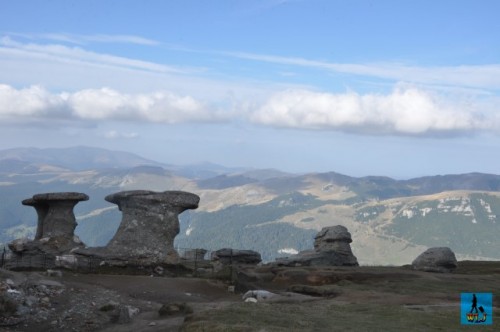 Article Name
Bucegi Natural Park is an international treasure for all mountain lovers
Description
Bucegi Natural Park is a hikers paradise, a place where nature combines unique rock formations, waterfalls, caves, canyons and reservations.
Author
Publisher Name
Publisher Logo