Welcome to
Alba County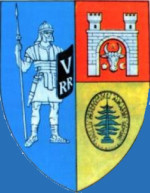 Location:
Alba County is situated in the central-west part of Romania, in Transylvania region and its neighbors are the following counties: Bihor and Arad in north-west, Hunedoara in south-west, Valcea in south, Sibiu in east, Mures in north-west and Cluj in north.
Area/Surface:
6.242 km²
Population:
383.000 people
Capital (Residence):
Alba Iulia City 58.700 people
Religion:
Orthodox
Cars:
AB
Calling code:
+4 0258 or 0358
Municipalities:
Alba Iulia, Aiud, Blaj, Sebes
Cities:
Abrud, Baia de Aries, Campeni, Cugir, Ocna Mures, Teius, Zlatna
Main roads:
E68(DN7) Sebes – Simeria
E81(DN1) Turda – Sibiu
DN75 Stei – Turda
DN74 Brad – Abrud – Alba Iulia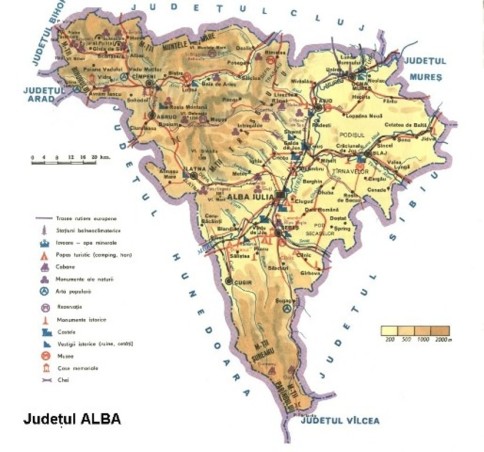 ---
Alba County
Relief and climate of Alba County:
Alba County has a predominantly mountainous relief, composed by Apuseni Mountains in the north-west part (Bihor Mountains, Muntele Mare Mountains, Metaliferi Mountains and Trascau Mountains) and Sureanu Mountains. The highest peak is Patru's Peak of 2.130 height. The Transylvanian Plateau dominates the eastern part of the county. The climate in Alba is cooler with a high rainfall due to the high relief forms, but on the eastern side is warmer. The main river that cross the county is Mures River with its hydro graphical basin and tributaries followed by Aries River. One of the main important lakes is Oasa Lake, situated on the border between the counties of Sibiu and Alba in Sureanu Mountains. (Find more journeys on blog.worldlifetimejourneys.com)
Flora, fauna and tourist attractions from Alba County:
Alba's flora and fauna are rich with many species of mammals such as brown bears, deer, wild boars, harts, plain hares, wolves, lynxes and many more. Among the most important tourist attractions from Alba County are the Glacier Cave from Scarisoara, Huda lui Papara Cave, Rametului Keys, The Girls Market from the Gaina (Hen) Mountain (20th of July every year) at 8 km from Avram Iancu, Alba Iulia Cathedral, Alba Iulia, Sebes and Aiud citadels and especially the great variety of mountain trails only good for hiking lovers. Visit Alba County!
---
Hiking on Brâna Caprei Trail in Trascau Mountains, Alba County
---

 Alba Iulia City
Live weather in

 Bucharest

 Caras Severin County


 Timis County

 Suceava County

 Arad County


 Bihor County


 Salaj County

 Constanta County


 Tulcea County

 Maramures County


 Satu Mare County

 Bacau County


 Botosani County


 Galati County


 Iasi County


 Neamt County


 Vaslui County


 Vrancea County

 Arges County


 Braila County


 Buzau County


 Calarasi County


 Dambovita County


 Giurgiu County


 Ialomita County


 Ilfov County


 Prahova County


 Teleorman County

 Dolj County


 Gorj County


 Mehedinti County


 Olt County


 Valcea County

 Alba County


 Bistrita Nasaud County


 Brasov County


 Cluj County


 Covasna County


 Harghita County


 Hunedoara County


 Mures County


 Sibiu County
Summary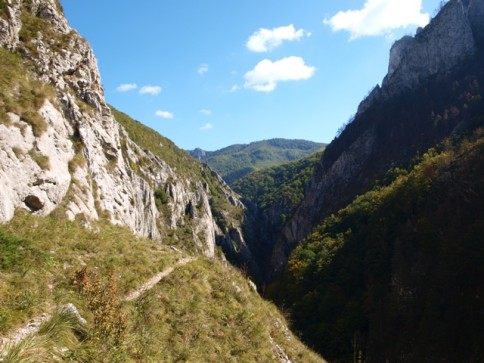 Article Name
Alba County is rich in mountain trails, caves and landscapes
Description
A journey in Alba County is a must do in Romania if you love hiking, caves, gorges or a spectacular relief. Scarisoara Glacier Cave is the most beautiful
Author
Publisher Name
Publisher Logo